After a period of seasonal closure during the winter, as of March 24, this top-class hotel will once again
welcome its guests who want an unforgettable and extraordinary experience of Istria and the Mediterranean.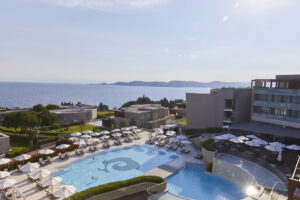 C lose to the sea, in the rural surroundings of northwestern Istria, not far from Umag, is the Kempinski Hotel  Adriatic, a prestigious five-star golf and spa resort that reopens its doors with the arrival of warmer days. The hotel is surrounded by pictu esque olive orchards and vineyards, and sun-bathed private beaches of the hotel offer a magic view of the Adriatic Sea and the shore, which also makes this luxurious oasis of peace an ideal starting point for discovering all the charms of Istria. You can relax on a lavishly furnished private beach of the hotel where you will be greeted by crystal clear sea, you can nurture your sporting spirit at the outdoor or indoor swimming pool, spacious
golf courses and tennis courts, and you will find an ideal place to renew your energy at the luxurious Carolea Spa Center.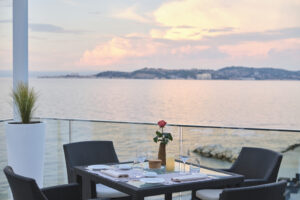 The hotel's superior accommodation includes 186 luxurious rooms and suites with balconies or terraces, and there is also the option of staying in Kempinski villas, which will enchant everyone with their refined elegance. Located within the Kempinski Hotel Adriatic, each villa covers an area of 600 square meters to more than 1000 square meters and ensures absolute privacy and comfort. Along with excellent hotel service and diverse content, the Kempinski Hotel Adriatic guests can also enjoy its superb gastronomic offer. The two elegant restaurants Dijana and Kanova offer exceptional flavors of Mediterranean and Istrian cuisine, while at the same time providing a spectacular view of romantic sunsets.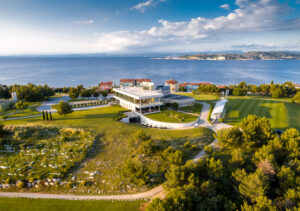 There is also the Adriatic, an elegant lobby bar with an outdoor terrace, known for its delicious desserts, aromatic coffee, a wide selection of teas and sophisticated cocktails, as well as outdoor pool and beach bars that offer lighter meals, a variety of snacks, fresh fruit, refreshing drinks and attractive cocktails. Kempinski Hotel Adriatic offers escape from reality and rest and enjoyment for all the senses in the midst of a magical Istrian ambience. Leave everyday life behind and venture on a carefree journey filled with endless relaxation and enjoyment, and let this piece of paradise be your starting point for infinite lightness of being and for exploring the rich Istrian region.