March 10 th ,  the Hilton Garden Inn hosted a Business Breakfast organized by the Italian-Croatian Chamber of Commerce, the Nordic Chamber of Commerce and the Canadian Croatian Business Network in partnership with HBOR.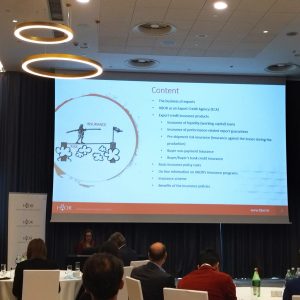 Ivana Petković, Export Credit Insurance Specialist, HBOR and Zoran Babić, Head of the Bank Cooperation Department, Credit Sector, HBOR, presented this topic to members of three bilateral chambers.
In their efforts to start or expand their international business, Croatian exporters are sometimes faced with limited knowledge of certain foreign markets and / or lack of resources needed to obtain and conclude export contracts or obtain bank support during the process, due to high risk requirements.
One of HBOR's various groups acts as the state Export Credit Agency (ECA), on behalf of the Republic of Croatia, and has a central role in supporting Croatian exporters to be more competitive on the world market. In this capacity, HBOR conducts export credit insurance, insuring export transactions against political and commercial risks. As an ECA, HBOR offers a wide range of export credit insurance products for all phases of the export cycle, including tenders, pre-shipment / production, deliveries of goods and services, and payments.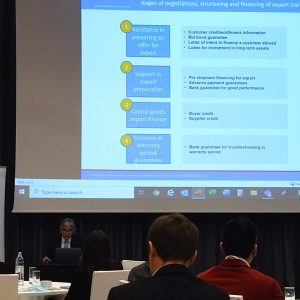 In terms of export financing, export crediting refers to both short-term and long-term financing. Short-term loans refer to loans for preparation before dispatch production for export, while long-term loans refer to investments in long-term assets and lending according to the model of lending to customers and suppliers. Loans to customers and suppliers are granted in accordance with the OECD Consensus Rules and are specifically tailored to exporters of capital goods. The workshop is intended for exporters of consumer goods and capital goods or services, entrepreneurs who perform construction work abroad, as well as investors, business advisors, banks that do business with clients in export markets and all others engaged in export-credit business.
The aim of the event was to present the current export-credit insurance and financing programs implemented by HBOR with an interactive discussion, concrete examples and cases from everyday practice.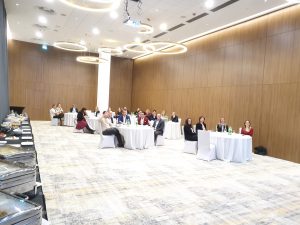 Insurance programs complement the supply of the private credit insurance market, filling the gap by covering risks for which there is no possibility of private insurance or reinsurance, or that capacity is limited. Thus, HBOR achieves numerous positive effects for both Croatian exporters and their banks, such as:
Providing a quality and affordable security instrument, issued in the name and on behalf of the Republic of Croatia
Increasing the competitiveness of Croatian exporters, through:
give them access to new export contracts and new or riskier export markets, and
enabling them to provide their foreign customers with more favorable financial conditions, such as delaying payments or financing their purchase, while ensuring that these payments are not made due to the political and commercial risks associated with their customers and their markets.
Providing a quality and affordable security instrument, issued in the name and on behalf of the Republic of Croatia
Enabling banks to increase their ability to support existing customers and to gain new customers, while reducing exposure to customers (because the insurance policy is issued in the name and on behalf of the state), which in turn allows exporters:
easier and more favorable access to sources of financing and the possibility of releasing / exchanging their other collateral.
After a very comprehensive lecture over breakfast, the members of the Chamber exchanged business contacts, ideas and received answers to questions related to export financing and insurance.