Quality, feeling at home and safety are the three characteristics of Croatian tourism that sets our offer apart from other Mediterranean countries, which are direct competitors to Croatian sun and sea. While being aware of the fast-paced global changes, we strive to be prepared for all challenges.
In the time when tourists are interested and desire changes, both global and fast-paced, are the planning of tourist offers becomes a more complex and challenging task. Gari Cappelli, the Croatian Tourism Minister, believes that Croatia has done a good job this year and has set a good institutional foundation for further development of tourist offer in the entire country.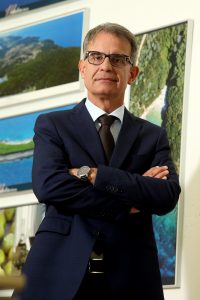 1. Given the pre-season results, do you expect 2019 to be another record-breaking year in tourism?
The indicators of the tourism revenue which have been accomplished so far suggest that the demand for Croatia is still very strong and we are quite happy with that. The tourist race in the Mediterranean, as the summer is getting closer, is reaching its boiling point. Year-on-year, we have been witnessing the fact that our market is becoming more dynamic, and that the demand and habits of tourists in terms of booking, motivation and the way they are arriving here are changing very fast. We have to adapt quickly to market demands, and that is exactly what we are doing through our numerous activities. When it comes to figures, in the first four months of this year, we recorded an 11% increase, which is in line with our expectations for the pre-season and our planned activities. In terms of the whole year, we expect a slight growth of tourist traffic, with a special emphasis on the increase of tourist traffic outside the summer months and year-round traffic when it comes to the Croatian inland.
2. Bearing in mind Turkey and Tunisia's comeback to the tourist scene, do you expect this to affect visits to Croatia? What makes the Croatian offer different from its Mediterranean competitors?
Although Croatia shares a common denominator with most Mediterranean destinations primarily in regards to the basic tourist products – sun and sea – I think that we distinguish ourselves from our competition in our approach when it comes to the quality, making tourists feel at home and the security that we provide which is something that the visitors very often quote as our comparative advantage. Despite the comeback of Turkey and other North African destinations, we are always focusing on developing our offer and creating new opportunities for further positioning in our existing and emerging markets.
3. What is your strategy not only with the view of increasing the number of guests but in terms of tourism profit?
Our tourism development strategy is based on boosting the quality and developing special forms of tourism such as health, cultural, oenological /gourmet, cycling tourism, etc., which are available throughout the year and which also directly affects the increase in income since we are talking about the products that generate above-average daily consumption. In order to attract guest to our attractions all year around, it is also important to mention the traffic connectivity. Each year, we invest heavily in establishing new direct flights. This year we have 81 new flights connecting us to 24 global markets, and we invested a total of 40 million kuna in this project. Every year, we also spend about 50 million kuna in projects aimed at increasing the quality of accommodation capacities, creating new offers and improving the tourist infrastructure.
4. We often equate tourism to sea. How much have you invested in the promotion of inland tourism and what results did you get?
The Croatian Parliament has recently adopted a set of tourism-related laws that have opened a new chapter for Croatian tourism, especially in terms of developing inland tourism. We have also created a possibility for even better connectivity and increase of the efficiency of the entire tourist system, while at the same time, local communities, areas and regions can better manage the development of their products and thus exploit their potentials while highlighting their specificity. We have especially been focusing on promoting inland tourism through association and better management of destinations with financial self-sustainability, which will surely be a strong driving force behind the development of inland tourism. We want to have tourism that will cover every part of our country. For example, the Government of the Republic of Croatia has invested more than 8 billion kuna in the Slavonia development project, with about 2.6 billion kuna allocated to tourism alone.
5. In view of the global tourism trends, which direction should the Croatian tourist offer take in the future?
In the future, sustainability will definitely be one of the pillars of Croatian tourism, while the quality and innovation of tourist product will continue to be the key factor in the competition game. It is extremely important to carefully plan tourism development as it is crucial to the overall development of the tourism economy through stimulating investments and economic development, creating new jobs and social development. That is why we have started to make legislative changes which have been adopted, as I have mentioned earlier.
As of the next year, when these laws come into force, the tourist community system will be established based on the model of destination management which will emulate contemporary global systems. Regional and local organizations will be transformed into management organizations in charge of planning and development, managing the tourism system, providing information, doing research and marketing while the Croatian National Tourist Board is being transformed into a national promotion agency, focusing on a more efficient promotion, elevating the recognizability and ultimately strengthening Croatia's national tourism brand.
6. How much money, both private and public, has been invested in tourism this year and what new capacities are going to be made available to tourists?
This year, the total investments in the Croatian tourism will amount to 1.05 billion euro which will surely give additional momentum to the development of tourist destinations, and thus to the overall economic growth of Croatia. In this way, the public sector, i.e, the counties and cities will invest 425 million euro in their respective areas, while companies will invest about 626 million euro in their tourism projects. I should mention that most investments involve the construction of high-category hotels, apartments and resorts (4 and 5 stars). So far this year, a total of 18 new hotels have been opened or are about to be opened.
7. How important is quality staff for the quality of tourist offer and how many workers is Croatia going to import this year at the height of the season?
There is a good reason behind saying that people are the key to success in tourism. It is especially important to us that we provide the best possible working conditions and conditions for promotion for tourism workers in every segment and throughout the year since they are the most deserving for achieving good tourism results. The Ministry of Tourism and the Government of the Republic of Croatia are implementing a series of measures aimed at improving the conditions for our workers, and this year, we have allocated 2 billion kuna for employment in the Republic of Croatia, 1.5 billion kuna for the said measures, and 500,000 kuna for the programmes from the European Social Fund.
I also have to mention quotas for employing foreigners which this year, was set at 15,000 for tourism workers. However, it is important to conclude that the development of human resources should be perceived in the same way as tourism itself, that is, the development of year-around tourism creates the prerequisites for year-round work in tourism, whereas elevating the quality of tourism should be accompanied by improving the quality of the workforce. The six tourism competence centres, which will bring together the public and private sectors, will contribute greatly to establishing a quality dual education system and ensuring quality tourism workers.