British Ambassador to Croatia, Andrew Dalgleish, and his wife Aline hosted the Queen`s Birthday Party in the Ambassador's residence in Zagreb.
The Queen's actual birthday is 21 April but is officially celebrated in June.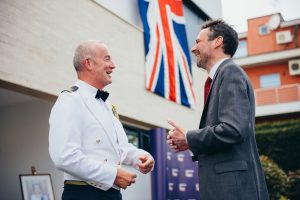 Ambassador Dalgleish, raising a glass to toast Her Majesty Queen Elizabeth, said The Queen is ''the longest reigning monarch in the history of our Kingdom and a reminder now, when we perhaps need that reminder more than ever, of the stability and longevity of our Great British constitution, and a reminder of what it truly means to serve one's country.''
The theme of the party was #BeyondPlastic as the Embassy is promoting one of the British Government's priorities: to lead global activities in choosing alternatives to single-use plastic which is polluting our planet. (The cocktails were served with reusable bamboo straws.)
More than 300 guests – Government officials, business and defence partners, media people, IT grey cells, artists, friends and Brits living in Croatia – enjoyed some fine British and Croatian food, gin and whiskey cocktails (served with reusable bamboo straws), the best of British music and each other's company at one of the coolest diplomatic parties in town.
Ambassador Dalgleish summed up activities and successes of the Croatian-UK links in the past year that span from policy to culture, defence to culture, tourism to business.
Photo: Goran Hrubi