The celebration on the occasion of the French National  Day – the Day of the Fall of Bastille, was held on the Oleander terrace at Hotel Esplanade, on July 12th.  At the same time, it was a  farewell event prepared by Ambassadors  Corinne and Philippe Meunier.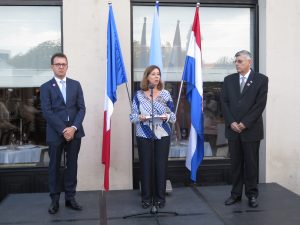 After the perform of  3 anthems (European, Croatian and French), the Ambassador of France to Croatia H.E. Corinne Meunier  addressed the guests. The guests were also greeted  by the vice- president of the Croatian Parliament, Mr. Zeljko Reiner.
The reception was attended by a large number of officials from political, cultural and public life.