The Montenegrin Embassy in the Republic of Croatia hosted a formal reception on the occasion of marking the Montenegrin Statehood Day.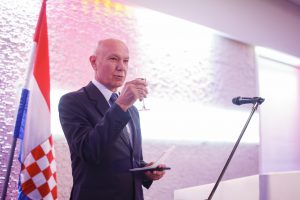 In his speech, the Montenegrin Ambassador to Croatia, H.E. Boro Vučinić underlined that 13th July represents the symbol of the centuries-old Montenegrin persistence and freedom that are the foundation of today's modern Montenegro, which is committed to the values of the European civilization and culture. He added that Montenegro, as a multi-ethnic and multi-religious state, is a NATO member and an EU candidate, as well as a serious and responsible partner to the region, Europe and the entire international community.
"Montenegro wants good bilateral relations with friendly Croatia to further grow and develop. This is an important guarantee of stability and a common European future," concluded Ambassador Vucinic.
The reception, which drew the attention of the Croatian public, was attended by high-ranking state officials of the Republic of Croatia, mayor Milan Bandić, the former Croatian President Stjepan Mesić, the former Croatian Prime Minister Jadranka Kosor, members of the diplomatic corps, public and cultural figures and the representatives of the Montenegrin community in this country.