With the introduction of Generation 7000, kitchen appliances are getting a new design that emphasizes Miele advantages with the refinement of design detailsIn the future, the kitchen will play an even more important role in many households. This is not just a central dwelling space, it's moving towards the centre of attention as a status symbol more and more often. Generation 7000 – the intuitive generation, is the right solution.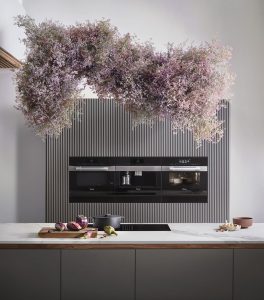 With its Generation 700, Miele is refreshing its entire range of built-in kitchen appliances, from ovens and hot plates to steam ovens, coffee makers to Gourmet warming drawers and vacuum-sealing drawers.
Attention was paid to symmetrical design, perfect alignment of spaces and positioning of individual design elements. This creates the biggest possible flexibility when it comes to kitchen design, and provides contemporary design solutions for modern kitchens.
Colours for perfect enjoyment
Built-in appliances in contemporary minimalist design. Miele offers three high-quality concepts in graphite grey and obsidian black, and the stainless steel version that fit perfectly in any kitchen and living space. Regardless of the decoration style, traditional, timeless or modern: Miele is not responsible only for the perfect culinary results, but also for the harmony in your kitchen.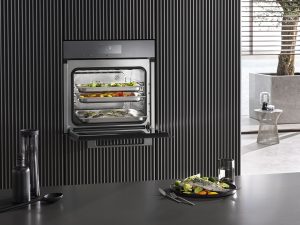 Perfection according Your taste – Miele Steam Combination Oven
A versatile talent and an ideal addition to the hot plate. Meal preparation time when doing the preparation on steam and cooking is identical, therefore you don't have to change your kitchen habits. You can prepare appetizers, soups, fish, meat, vegetables, side dishes or desserts individually – or you can prepare the entire menu in one meal preparation process. Demanding wishes for the result of preparation – crispy or juicy – with Miele steam combination oven can be individually fulfilled. A one-of-a-kind external steam generation in the form of Miele MultiSteam technology is responsible for perfect results. It collects steam for fast steam generation, heating and steam distribution with even results.
Numerous functions in one device: unlimited options allow for perfect cooking and baking.
The Miele climate sensor measures and regulates the moisture in the cooking compartment. The natural moisture content of food is also taken into account. The climate of the cooking compartment is always optimally adjusted to the respective food.
The Miele steam combined oven leaves no wish unfulfilled. As a steam oven, it offers numerous advantages and it also has many oven functions, like the hot air plus, top/bottom heating element and grill. And it peaks when it comes to combined preparation – in combination of humid and dry heat, with which you will get perfect results when baking.
Meet the world of culinary delights
The doors of Miele culinary workshops are open for all who want to learn how to prepare and create a rhapsody of tastes and smells. A unique opportunity to start from the bottom or to perfect your cooking skills and impress your family, friends and guests by preparing a perfect meal. You can choose the perfect combination of workshops that best suit your desires and needs. Starting from the basics of technique and food processing, or different themed workshops, choose the national cuisine you always wanted to visit.
You like to cook and you are always interested in learning something new? Visit our culinary workshops and prefect your cooking skills!
For beginner chefs and culinary enthusiasts, learn the basic skills at Miele culinary workshops when it comes to preparation, processing and technological procedures, and practical advice and culinary practices. We will visit different parts of the world and bring a breath of various cultures, and we'll familiarize ourselves with culinary delights in a pleasant environment.
At Miele Experience Centre, you can literally taste the fun, and you also have the opportunity to cook differently, test the devices you haven't encountered yet, and which have been winning numerous awards for quality of material and impeccable design year after year.
Feel the Miele difference while you prepare delicacies under the guidance of our Miele Chef and experience culinary excellence in our state-of-the-art active kitchen!
Learn more about the many opportunities offered by Miele kitchen appliances and enjoy the delicious tastings, top quality snacks, new gastronomic knowledge and extraordinary talent from the creative hands of the best chefs.
PR