Marjan Vučak, President of the Management Board of Meggle Hrvatska d.o.o., was elected President of the German-Croatian Chamber of Industry and Commerce as part of the regular assembly held on September 14, 2022. In this position, he will replace Dr. Thomas Sichla, President of the Management Board of Zagreb wastewater.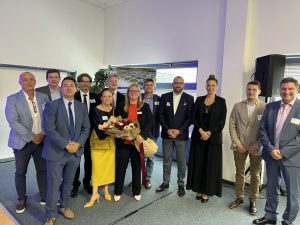 The new administration consists of 11 members, three of whom were elected for a second term. "There are very challenging times ahead of us, but we want to continue what we have started and, with our existing knowledge, competence and will, contribute to going through the coming period as easily as possible. The administration, together with the team of the German-Croatian Chamber headed by the director, will try to respond to all challenges and tasks", explained Vučak after the election. Mr. Marjan Vučak started his career at Meggle in 1998. Since 2000, he has been the director of MEGGLE Mljekare d.o.o. in Bihać, where he successfully completed privatization in 2003 and led MEGGLE to the largest market share in Bosnia and Herzegovina and the leadership position it held in 2004. From the beginning of 2014, he became responsible for the SEE (South Eastern Europe) region, which includes the countries of Croatia, Serbia, Bosnia and Herzegovina, Slovenia, Albania, Romania, Moldova, Bulgaria, Russia and the Russian Customs Federation.
Changes in the Administration
All elected members of the board will serve their mandate for a period of two years. The new vice presidents of the board are Anita Lacmanović (SAP d.o.o.) and Kristijan Kovač (KOVAČ & PARTNERI law firm), while Radu Dobrescu (Rödl International d.o.o.) continues his mandate as treasurer. Nicolas Baron Adamovich, (auric timber d.o.o.) continues his second term as deputy treasurer and Daniel Matić (Allianz Hrvatska d.d.) as a member of the board. Darko Baljak (HIPP Croatia d.o.o.), Boris Miljavac (Siemens Energy d.o.o.), Schalk Opperman (MERCK d.o.o.), Nives Sandri (Nokia Solutions and Networks d.o.o.) and Marko Tihava (Auto Hrvatska d.d.) were elected as new board members.