Croatia remains one of the most attractive investment locations in Southeast Europe for German companies,  for Diplomacy&Commerce says Thomas Sichla, president of the German-Croatian Chamber of Industry and Commerce.
However, if investments have to compliment the increasingly robust trade, some of the long lasting obstacles to better business climate have to be tackled more vigorously.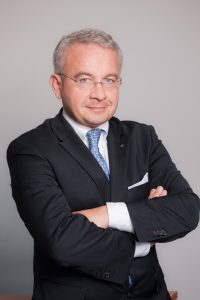 German companies see growing opportunities for their business in Croatia, especially in the fields of tourism, energy and infrastructure and they welcome recent improvements in business and investment climate. However, more effort is needed if the county wants to lay ground for robust growth, says Thomas Sichla, president of the German-Croatian Chamber of Industry and Commerce.
Do you think that we have to be worried because the readiness of the German companies to invest in Croatia fell from 70 to 55 per cent?
Before I answer this, I have to underline that the companies surveyed were not only German companies. In fact, most of them – some 65 per cent – were Croatian companies. Yes, although half of the companies would again choose Croatia as their business location, this drop isn't a good signal, because it is another strong decline compared to the previous year, from 68 to 54 percent. And before it dropped to 68 per cent in 2018, this number was for a long period of time always around 80 per cent. I wouldn't sound the alarm yet, because the survey has also shown that almost 9 out of 10 companies are satisfied with their own business situation and that only 1 out of 10 thinks that this will not improve. Plus, according to these same companies, Croatia is still better as an investment location than any other country in Southeast Europe, with the only exception being Slovenia. At the moment, investments are one of the two main pillars of Croatia's economic growth; the other being private consumption, and this drop is a signal that shouldn't be taken lightly.
To what extent the government addresses the challenges the German companies are pointing at?
We have recognized and welcome the efforts of the government towards creating a better business and investment climate. There has been a reduction of contributions on salaries and wages, which has disburdened the employers and strenghtened private consumption. But the biggest detriments to doing business are from the perspective of our members still the same ones they were pointing at five years ago – insufficient fight against corruption, high tax burden, slow and overblown public administration and lack of legal security. We must thus conclude that measures to mitigate this haven't been taken, or that our members' perception of the situation is somehow false, which I consider highly unlikely. Our Chamber has a great communication and exchange with the Croatian government, especially with the Ministry of Entrepreneurship, and we have to acknowledge their strong great will to make things better, but we feel that things somehow break down when measures adopted at the national level need to be translated into action at the local level.
3. Overall, how would you assess the opportunities for trade and investments between our two countries? What are the major trends?
They are great, the foreign trade volume is constantly increasing and it reached some 5,5 billion euro in 2018. Bilateral export has more than doubled in the past 15 years. Germany is on the one hand a big market, so Croatian exporters can always find customers there, whereas Croatia is heavily reliant on imports due to the lack of its own production capacities. Plus Croatia's booming tourism is a strong demand generator, especially for the food and beverages sector. The strongest increase in imports from Germany from 2007 to 2018 was recorded in this very sector. We expect that Croatia's new energy strategy will lead to high investments in the energy sector, infrastructure and tourism projects will stimulate the construction industry, the demand of the private sector is gaining importance for the medical technology sector and there is also a very strong rise of demand for software and IT services. Croatia's automotive, plastic and pharmaceutical industry are also growing, so there should be plenty of opportunities there.
One of the key questions seems to be education. How do you assess the current reform?
There have been some positive changes, like putting a much stronger emphasis on the work based principle in vocational education. However, there is still room for development, especially in connecting the education system with the needs of the economy. The changes are still happening too slowly – maybe a better cooperation between all relevant stakeholders would speed things up.
If we educate more people to live up to the needs of the market, won't we expedite the brain drain?
Quite on the contrary – I believe we will slow it down. If we educate more people according to the needs of the market, if the cooperation between the economy, that is the companies, and the education system is strengthened and intensified, I believe that on the one hand employers will find skilled employees quicker and on the other hand, young people will find (good) employment easier. The lack of skilled work force is becoming a critical question in Croatia – most employers are well aware of that fact and are doing more and more to attract skilled new employees but also keep the existing ones satisfied.
Your chamber has recently given prizes to schools and companies included in the dual education. Was it an easy choice?
It was most certainly not an easy choice. I think the fact that we had no third place but a shared second place speaks for itself. Our jury, consisting of members from the German Embassy in Zagreb, the Ministry of Science and Education, AHK member companies Raiffeisenbank Croatia and Selk d.d., as well as the AHK, held two "marathon meetings" – first deciding on the finalists and then choosing the best three applications. The aim of the award was to find examples of cooperation between vocational schools and companies who are promoting key elements of the dual model. It was impressive and inspiring to see how companies and vocational schools are working together towards this shared goal. We, the Chamber, would wish to see those best practice examples becoming the standard.
You often speak to students. Which topics do these young people find the most appealing?
Well, these topics depend on the respective fields of study of these students, but, broadly speaking, they are always interested in topics which will give them insights into the world they are living in. They are also interested in competences which will provide them with sustenance in this world. Many young people today need better job skills, including transferable skills such as problem-solving and communication. They also need job-specific skills, such as carpentry, coding or engineering, and increasingly entrepreneurial and digital skills. Digital skills are essential if one intends to participate in the global economy, which is today driven by information and communications technology.
7. As a CEO of Zagreb Wastewater Ltd. how do you evaluate opportunities for German investments in ecology?
Together with the city of Zagreb we have implemented the BOOT project Wastewater Treatment Plant Zagreb, the first and largest project in Croatia for the sustainable treatment of urban wastewater of the city of Zagreb. As part of the European regulations on wastewater treatment, over the next few years this plant will be expanded to include the third purification stage for nitrogen and phosphorus elimination. At the moment, the expansion of existing and construction of new wastewater treatment plants is being strongly encouraged in Croatia. There are numerous opportunities for German companies to support these aims, especially by providing adequate machine and measurement technology, electrical engineering but also support in the process of planning.