More than 100 people from German-Croatian business circles gathered in the fifth edition of the Oktoberfest of the German-Croatian Industrial and Chamber of Commerce. Apart from Bavarian culinary specialties and unavoidable beer for a great atmosphere, the German band Rockaholics Buam and traditional AHK-Oktoberfest moderator Mario Petreković took care of.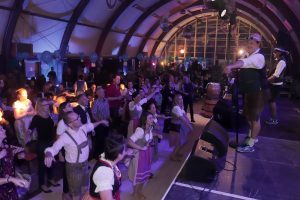 The fifth Oktoberfest German-Croatian Industrial and Chamber of Commerce once again confirmed the huge interest of German-Croatian business circles and Croatian audiences for this event. What really is not surprising – since the Bavarian Oktoberfest is the most popular and popular party entertainment in the world, and its atmosphere probably no one in Croatia is so faithfully transmitted as the German-Croatian Chamber of Commerce and Commerce. The guests were welcomed by the director of the German-Croatian Chamber of Commerce and Industry Sven Thorsten Potthoff, pointing out that the purpose of this event is, above all, good fun. Special thanks were given to sponsors Bayer, Meggle, Communication Laboratory, Messer, Profil Klett and RWE, whose representatives sat in the first rows to the stage and stressed that this event would not be possible without them. President of Chamber Ralf Blomberg welcomed guests before he opened the first beer barrel, and thus the 5th AHK-Oktoberfest, saying that the Oktoberfest in Bavaria, however, ended, but this Croatian cake is in the end. The guests also invited to have fun and show Bavarians among them how it works in Croatia.
The rest of the evening went on cheerful and dazzling, with inevitable beer, Bavarian dishes and traditional games, all with the sounds of the biggest Oktoberfest hits played by the Bavarian band Rockaholics Buam. The program was also moderated this year by the witty manager Mario Petrekovic, who had fun with his peculiar humor.