When there are intensive relations, open issues might occur. However, as friends we solve them in a constructive manner.
With an investment volume of 5.1 bn € Austrian business comes second on the list of foreign investors and secures around 35,000 jobs says H.E. Josef Markus WUKETICH, Ambassador of Austria to Croatia, for Diplomacy&Commerce, Focus on Austria. The ambassador adds that more than 95,000 Croatian citizens live and work in Austria.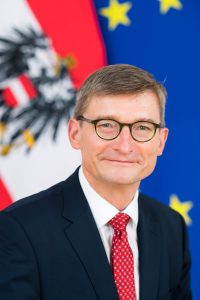 This year marks the 30th anniversary of the establishment of diplomatic relations between the two countries. How do you assess the development of these relations from the beginning until today?
Austria was supporting Croatia's aspirations to become independent from the very outset. Many people in Croatia still remember the late Austrian Foreign Minister Alois Mock who was a strong advocate of Croatian self-determination. This was not an easy thing at that time, as the international community and even Austria's political elites were divided over this issue. But the visionary Alois Mock understood that the changes going on in East and South East Europe could not be stopped. Austria also supported Croatia's bid for EU membership and was there to help at critical crossroads of the accession process. Today Austria and Croatia are strong partners in a united Europe. Just to give you a few figures: With an investment volume of 5.1 bn € Austrian business comes second on the list of foreign investors and secures around 35,000 jobs. More than 95,000 Croatian citizens live and work in Austria. Croatia is among the most popular holiday destinations of my fellow Austrians. Last year more than 1.1 million arrivals of Austrian tourists to Croatia were counted. The Austrian-Croatian relations are clearly a success story.
Today, Croatia and Austria are members of the EU and other international organizations. Where do you see the room for progress in the development of mutual relations?
Given the high quality and intensity of our bilateral relations, it might seem difficult to top the excellent results achieved so far. But there is always room for new opportunities and a deeper relationship. Now that we have learned to grapple with the COVID pandemic, I am very glad that high-level visits are picking up momentum again. In May the second Deputy Speaker of the Austrian Parliament Norbert Hofer paid an official visit to Zagreb and Austria's Federal President Alexander Van der Bellen participated in the Trilateral Meeting of the Presidents of Austria, Croatia and Slovenia on the Brijuni Islands at the beginning of June. Business has been suffering a lot because of the pandemic. The Austrian government launched the economic outreach programme "ReFocus Austria" in order to boost economic co-operation during and after COVID. In the framework of this initiative, we have been organizing a series of events presenting e.g. Austrian iconic brands at the Technical Museum or the achievements of Austrian wooden constructions at the ZagRE2022 Conference on the Development of Real Estate. The Embassy's main event on 14 June marking the 30th anniversary of diplomatic relations between Austria and Croatia will be held jointly with the Austria Connect South East Europe Conference that will bring together Austrian businesspeople with their counterparts from the whole region of South East Europe here in Zagreb.
Croatia's goal is to introduce the euro as its official currency next year and be admitted to Schengen. What is Austria's position on these issues?
Both Austria and Croatia will benefit immensely from Croatia's joining the Schengen area and the Euro zone, and we see Croatia on a very positive path of joining both. Regarding Euro zone membership, we hope that the European Central Bank will soon give its green light that Croatia can introduce the Euro according to schedule.
4. You have been in Zagreb for several years. What do you recommend to your friends to see in Croatia and what do you like the most (when we talk about some region, food, drinks …)?
This is a very tricky question, because there are so many beautiful and interesting places to see in Croatia. It really depends on how much time visitors have got and what their interests are. If I were to select, which is extremely difficult, I would recommend them to visit cities like Zagreb, Opatija, Zadar, Split, Dubrovnik, Varaždin or Osijek. Nature enthusiasts should enjoy the beauties of the Plitvice Lakes National Park, the Krka National Park or the Kopački Rit Nature Park. The Austrians love the Croatian Adriatic coast and so do I. However, the geography of Slavonia evokes the plains of Northern Burgenland or Gradišće where I come from and the folk music of Međimurje in particular calls forth our Burgenland Croatian songs. Croatia can boast of lovely wines such as Dingač, Plavac, Graševina or Malvazija. You will find excellent fish or seafood in so many places in Croatia and I had already gorgeous roast lamb. Olive oil from Istria is really great. As I am, however, a pasta lover, "štrukli" are my absolute favourite dish.