The first business  breakfast of "The Economist: Svijet u …" community was officially and successfully held on Wednesday, June 15, 2022 at the Esplanade Zagreb Hotel. The guest of this year's breakfast was Joan Hoey, Regional Director of The Economist for Europe, giving a speech on the impact of the war in Ukraine on international relations and the global economy, with a focus on Europe. She was accompanied by about 40 representatives of the business community and diplomacy.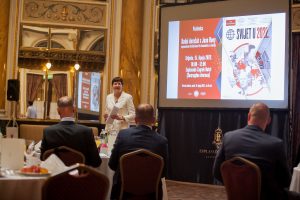 Working breakfast is a new format of gathering for the exchange of knowledge, information and experiences, intended primarily for current and future project partners. Joan Hoey's speech sparked an open discussion in which guests asked a number of questions, but also expressed their own opinions and views.
The former Minister and current Vice Governor of the CNB Tomislav Ćorić also took part in the working breakfast, while the organizers of the gathering, Ivan Vrdoljak, Robert Čoban and Dalibor Greganić, thanked everyone for their response and Joan Hoey for the valuable information she shared with the guests.