Mutual relations of friendship and cooperation are on a constant upward trajectory and they have never gone through turmoil or critical phases since the independence of the two countries
North Macedonia and Croatia are close friends and allies, sharing the same Euro-Atlantic values.  As NATO partners, there is mutual understanding and support in the implementation of joint projects, addressing the common challenges, for Diplomacy&Commerce says H.E. Milaim Fetai, ambassador of the Republic of Northern Macedonia to the Republic of Croatia. Besides bilateral trade, two countries are small markets in global terms and therefore, there is a need to focus on mutual cooperation and joint appearances on third markets he adds.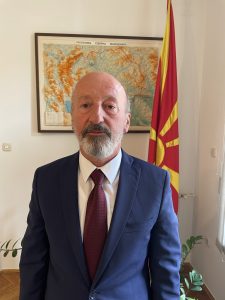 This year marks the 30th anniversary of the establishment of diplomatic relations between the two countries. How do you rate these relationships and where do you see places to improve them?
On the occasion of 30th Anniversary of establishment of diplomatic relations between our two countries, allow me fist to convey my sincere congratulations for the excellent cooperation and best wishes for prosperity and welfare of the Republic of Croatia and its citizens.  Deep friendship established in the past through a series of personal and family contacts, in the last three decades has been continuously upgraded by strengthening of the political dialogue, economic cooperation, cultural, trade and tourism exchange and cooperation in many other areas.
In this context, the numerous links in the historical chain of Macedonian-Croatian literary and cultural ties in general, like cooperation with the Croatian Bishop Josip Juraj Strossmayer for printing of the famous Collection of Brothers Miladinovci or the publication of  "White Dawns" by Kosta Solev Racin in Samobor, find their reflection in contemporary literary and linguistic relations and positively influence mutual connections in linguistics, culture, history, ethnology, folklore etc.
We are grateful for the strong and determined support from Croatia for our EU membership. Croatia is an honest partner and traditional supporter of our aspirations for integration into the European family. As chair of the EU in 2020, they showed how important it is for the region of Southeast Europe to be included in European integration, which was turned into one of the basic ideas of their EU Presidency. The crown of such support was the decision to start accession negotiations with North Macedonia and Albania, noted in Zagreb Declaration.
Regular political dialogue on high and highest level remains very dynamic. Last year, H.E. President of the Republic Stevo Pendarovski visited Croatia, while MFA Bujar Osmani and MFEP Gordan Grlic Radman participated at Dubrovnik Forum and Prespa Forum Dialogue, respectively. There is a readiness to further intensify political cooperation, especially between the Parliaments and inter-parliamentary friendship groups and in this context, delegation of MPs from Skopje had very useful meetings on 6-7 April 2022.
The excellent bilateral cooperation over the past decades sets the challenges and horizons for what we can do in the next 30 years. So, the staff of the Embassy and I, are faced with the question of how we can strengthen this partnership and create new, essential connections that will benefit our societies and citizens. This resulted in initiative to establish the Macedonian-Croatian Business Club and to create Macedonian-Croatian logo on this special Jubilee. In the forthcoming period we would like also to see deepening of the cooperation between the higher education institutions, exchange of students, scholars and widening of the young people network, as well as presentation of Macedonian contemporary cultural achievements in Croatia.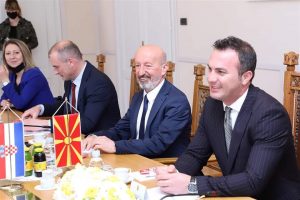 2.Political relations are good, and economic seems to be even better. What numbers show when we talk about the  economic cooperation ?   
We can cooperate in all areas, but what is very important now is to further discuss and determine the priorities and opportunities for cooperation in the field of economy, investment, from energy production from renewable sources up to education how to improve the competitiveness of Macedonian and Croatian companies. All necessary cooperation agreements have been signed between the two countries, but we cannot be satisfied with what has been achieved given that the volume of trade is relatively low. The economic growth does not depend only on businessmen undertakings, but also on the integrity of the institution and the rule of law, that guarantee that all rights of the investors would be protected. That's why economic diplomacy is at the top of the priorities of our diplomacy; we want to create a quality system that will help businessmen to work on the development of our trade relations and to exceed current figures.
According to statistical data, there is a permanent annual deficit on our side in the foreign trade. However, it should be pointed out that the trade exchange has showed an increase of almost 13 percent in the time of restrictions due to pandemic that is very optimistic tendency. Besides bilateral trade, two countries are small markets in global terms and therefore, there is a need to focus on mutual cooperation and joint appearances on third markets.
Speaking about tourism, Croatia is one of the strategic markets for promotion of North Macedonia as popular destination and vice versa. Almost every year there is an increase in tourist arrivals, which is expected also this year. There is a regular flight of Croatia Airlines from Zagreb with which you are in Skopje in just an hour and a half. We would like to explore possibilities of establishing new flight connections, for which there are several important reasons. The first is that the number of tourist arrivals from Croatia to North Macedonia is growing – for comparison before an outbreak of a pandemic in 2018, there were over 40% more arrivals than in 2017. The second is that we as nations know each other and are attractive to each other for the rich gastronomic offer, wines, natural beauty and environment. Helping. And finally, we need to work on developing and promoting common regional cultural and adventure offers in tourism, according to demands in this sector and processes of globalization.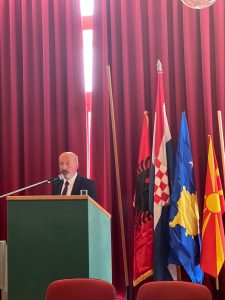 What is the bilateral cooperation on the topic of minorities? Can you tell us something about the functioning of the Inter-Governmental Mixed Commission for implementation of the bilateral Agreement on minority protection?
In the context of what has been achieved so far, I would like to express my satisfaction with the work of  the Inter-Governmental Mixed Commission for implementation of the bilateral Agreement on minority protection from 2007. The constructive atmosphere that prevails in the mutual talks is an additional confirmation that North Macedonia and Croatia have a very positive attitude towards the issues of minorities, which are complex topics. Minorities share the same problems faced by all citizens in a country – from the current pandemic to socio-economic issues, but also have additional challenges related to the preservation of their cultural and national identity, and above all the protection of cultural heritage, education and nurturing the mother tongue. I would like to emphasize that there is common interest for further enhancement of the cooperation in the field of protection of our community in Croatia and of the Croatian community in North Macedonia, as well as for the support of the activities in that field.
The activities of the Croat citizens that have roots in North Macedonia, are financed from the state budget of the Republic of Croatia, as well as on local level. We are grateful for the financial support given for their programs, publishing activities, cultural events etc. Main information magazine on Macedonian language "Makedonski glas" is published bimonthly, while there are numerous books on the culture and tradition of Macedonian minority, that is also noted in the Constitution of the Republic of Croatia. Performances of folklore, music groups, exhibitions, days of culture and other activities are organized within the program of cultural amateurism of different cultural societies, representing all ethnic groups, originated from my country.
You have been in Zagreb for a year. Which part of Croatia do you like the most and is there a part or something that you would like to single out (region, food, drinks …)?
Croatia is very beautiful country with a lot of natural beauty and various cultural and historical monuments. I especially love Croatia since I spent part of my youth here. I finished University and completed the master's degree in Zagreb. The friendships I have gained since my student days have never been broken and continue to this day. The great memories from Dubrovnik where I have spent vacation almost every summer, are enriched with the contacts from the summer schools on the island of Sipan, organized by the Atlantic Council of Croatia. From 2004 to 2018, I came there regularly as a lecturer, invited as the Professor at the University of Tetovo. So, in a way, I can say that I've been connected to Croatia all my life. I have visited almost all regions from Dubrovnik in the south  up to Eastern Slavonia. What I like especially is the whole Adriatic coast with more than thousand diverse islands. During the weekend my family and I often visit Hrvatsko Zagorje as a place near Zagreb with a lot of tourist opportunities. There are many thermal springs, green hills, beautiful castles reminiscent of the rich history of this area. What is impressive is that in some way the traditional way of life is preserved. I would especially like to emphasize the hospitality of people all over Croatia who are very kind hosts. In Zagorje they will be happy to offer you turkey with grinders and many other gastronomic specialties. Plitvice Lakes are an ideal place to enjoy the natural beauty that Croatia has in abundance. So, I can say that this wealth of nature is reflected in gastronomy. The croatian cuisine and wines always offer a rich assortment. I especially like Dalmatian cuisine, although each region has its own specialties.