In the framework of Hungary's Visegrad Four (V4) Presidency, the Hungarian Embassy in Zagreb, in cooperation with the Institute for Foreign Affairs and Trade, organised an international conference entitled "The European path of the Western Balkan countries in the changing European security environment" on 13 May 2022 at the Liszt Institute in Zagreb.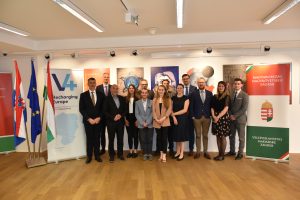 A video message was sent to the event by His Excellency, Olivér Várhelyi, European Commissioner for EU Enlargement and Neighbourhood Policy, and the message of His Excellency, Mr. Gordan Grlic Radman, Minister of Foreign and European Affairs was conveyed by his special advisor.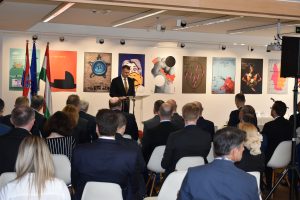 Ambassador Mr. Csaba Demcsák highlighted the priorities of Hungary's V4 Presidency, among them the acceleration of the enlargement process in the Western Balkans, in which an active role is played by Croatia, considered by the Visegrad4 countries as a reliable partner on this strategic issue. It is important not to turn our backs on the region.
On behalf of Mr. Grlić Radman special advisor Mr. Domagoj Knežević highlighted that the countries of the region should not be left in limbo, and underlined that Croatia is pushing for the opening of accession negotiations with Albania and North Macedonia, while for Bosnia and Herzegovina electoral reform and limited constitutional change are essential to achieve candidate status.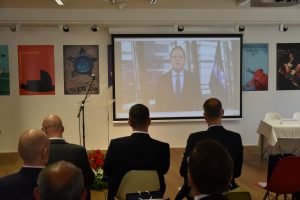 His Excellency Commissioner Várhelyi stated in his video message that Ukraine, Georgia and Moldova's application for EU membership in the wake of Russian aggression against Ukraine sends a message that the European Union remains a symbol of peace and stability.
In the panel discussions, experts from all Visegrad countries and Croatia, as well as Albania, Kosovo, Bosnia and Herzegovina and Serbia were exchanging their views on how to speed up the EU negotiations process and how to enhance the EU path of the countries concerned.
The event also served as the opening of the V4 PoszTerra poster exhibition.