In business and diplomacy, networking is everything.  Last Wednesday 10th of May at the wine bar Bornstein was held an IBMC – International Business Meetup Club party.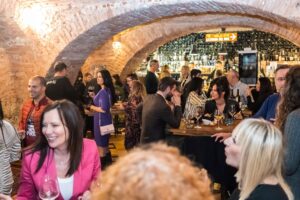 IBMC is a N01 business networking/expats organization in Croatia, started by Croatian entrepreneur/business promoter, marketing expert, travel writer and photographer Josip Novosel aka Dear Leader Joe.
International Business Meetup Club brings together entrepreneurs, diplomats (people from media, sport, gastronomy, fashion, IT tourism, diplomacy, finance, real estate etc.) from all around the world, every month at the business networking parties in various places in Zagreb. Atmosphere is relaxed but after each networking party, serious contacts and business deals are made and this is most important.
Almost 150 guests enjoyed amazing Croatian delicacies this Wednesday at the wine bar Bornstein: Great wines from the island of Krk – Katunar Estate winery (Sveta Lucija, Kurykta Reserva, Plavac mali…) and Gabriel goat cheeses from Ambient Park.
Croatian band Slicky Vroom was in charge of the live music and there was also a special surprise for everyone, bc one of the IBMC guests was Dino Jelusick, famous Croatian rock singer and one of the best rock singers in the world. He couldn't resist singing a few songs.
Some of the guests were: Famous plastic surgeon and owner of policlinic Dudukovic – Dr. Mladen Dudukovic, great young architect Ivana Vrban, Markoantonio Belinic – Real Estate, Maintenance & Security Manager at ALCA Zagreb, Mirella Tasseva – Commercial Counsellor at Embassy of the Republic of Bulgaria in Croatia, Chris Murray – business lawyer and climate investor from Canada, Zdenka Viets from UK, Barbarba Krecak Maheshwari – owner of Remote Bob, Zakline Troskot – owner of Amelie, Drazenka Siktar, director of EF Consulting, Renata Gubic – Executive Director at Zaklada "Croatia for children foundation", Nikolina Pejovic – Proposition Management Expert at Croatian Telecom, Aleksandar Grgic owner of Ambient park and brand of Gabriel cheeses, count Zeljko Marincel etc.