The office of  Italian Trade Agency in Zagreb was founded in 1956 and is one of the oldest such offices in the world, well-known among Croatian companies.
We have an extensive network of offices around the world – 79 in 65 countries – and our 900 employees sustain Italian firms in their internationalization processes and promote the image of the "Made in Italy" products around the world, says Margherita Lo Greco  Director of Italian Trade Agency.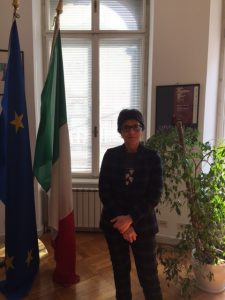 Can you tell us briefly about the ICE – Italian Trade Agency, and its role in foreign markets?
The Italian Trade Agency (ICE) is a government agency that was founded in 1926 with the goal of developing, facilitating and promoting Italian economic and trade relations with foreign countries, while focusing on the needs of SMEs. ICE has its headquarters in Rome and acts as a trade promotion section of the Italian embassies or consulates in its network of offices abroad. As a matter of fact, we, at ICE, would like to be considered by Italian SME's as their support office abroad.
We work closely with the Italian regions, the network of the Italian chambers of commerce, business organizations and other public and private entities. 
The office of ICE in Zagreb was founded in 1956 and the Office is also responsible for the territory of Bosnia and Herzegovina.
What forms of support do you provide to Italian business people?
ICE provides its services through four core activities: information, support, promotional activities and education and training programme.
Our employees systematically monitor the state of affairs and trends in foreign markets and the possibilities of internationalization for Italian entrepreneurs – this is the first step that Italian companies take in selecting the market and an appropriate strategy to be implemented in foreign markets.
We have a wealth of useful information, statistical data and sector analyses for all 65 countries we work in available on our website www.ice.gov.it .
Croatian companies and importers can get information and contacts from 55,000 Italian companies at www.italtrade.com and view 6,500 virtual products and services in Italy.
For example, we prepare the following analyses and publications for Italian entrepreneurs interested in the Croatian market: Investment and Business Guide in Croatia, Company Registration Instructions, Sectoral Analysis in Croatia (Energy, Agriculture, Infrastructure and Transport, Environmental Protection, Footwear Industry, Food Industry and others), databases of Croatian companies, information on current regulations, analysis of major macroeconomic indicators in Croatia, newsletter about EU funds and current news from the business world and the Agency's activities.
In the next stage of internationalization, we organize meetings with local entrepreneurs on behalf of Italian companies in accordance with their specific needs, at which they can find potential partners, both for joint ventures and external trade, as well as to obtain information about international tenders launched in Croatia. Our specialists closely monitor the legal regulations and other legal guidelines and provide support in solving legal and fiscal issues that are necessary for local market operations and overcoming the linguistic barrier.
One of the most important activities of our Agency are promotional ones, so we launch more than 600 initiatives around the world promoting the most important Made in Italy sectors – fashion, food, furniture, mechanical engineering, automotive, industrial design, machine building and shipbuilding. For example, last year, our Zagreb office co-financed the visit of over 120 Croatian companies to the most important Italian trade fairs, covering various sectors, including: Salona Nautico Genoa, Plast, Eima, Vicenzaoro / Oro Arezzo, Cibus, Tuttofood, Cersaie, Host, Lamiera, Agrilevante, Xylexpo and others.
We have also organized numerous special events in Croatia. On three occasions, Zagreb hosted an Italian jewelery exhibition that brought together 80 buyers from European, Asian and African countries and 50 Croatian companies from the sector. We have also organized, with a great success, exhibitions of Italian cosmetic products, prescription glasses and sunglasses and an exhibition of contemporary Italian architecture (Italian Urban Landscapes) in collaboration with the Faculty of Architecture in Zagreb.
Last but not least, one of our more important activities is certainly education and professional training that we have been doing since 1963. There are over 60 different education programmes annually that we organize for export managers, economic diplomacy staff, and foreign entrepreneurs through workshops and sector specializations conducted by Italian experts. For example, our office in Zagreb has, among other things, organized training on new strategies and technologies related to climate change management which was held in co-operation with the Regional Energy Agency of Northwest Croatia – REGEA, the Croatian Chamber of Economy and the Ministry of Agriculture on the topic of Sustainable and Ecological Fishery.
Italy is an important trading partner for Croatia, but also an investor. How does an average Croatian consumer perceive the Made in Italy products, and which kinds of products Italy imports the most from Croatia?
We export a wide range of products to Croatia. In the eyes of a Croatian consumer, the term "Made in Italy" is most commonly associated with food products, consumer goods (primarily clothing, footwear, furniture and interior decoration products, ceramics, etc.) and cars, but we also export technology and capital products (wood processing plastics processing machinery and equipment, technology used in food industry, construction, agriculture…). Since Croatia's entry into the European Union, customs tariffs have been abolished and there are no barriers anymore which made the trade between our two countries even more simplified.
In addition to raw materials (mostly wood and chemical products), we import semi-finished products (from wood and plastic) and products of the metal processing industry (semi-finished products and finished products) from Croatia.
As a special opportunity of economic co-operation, I would like to single out ​​digital transformation segment, given the large funds that Italy invests under the framework of the National Industrial Plan 4.0. Currently, in the the second stage, we are focusing on increasing digital competence of employees by providing different subsidies to employers, educational institutions and Competence Centres, followed by increased investments in the development and commercialization of SME innovation. Owing to the measures envisaged in the National Plan, Italy plans to launch investments totaling 9.8 billion euros.
Just like Italy, Croatia is also committed to boosting competitivenes of its innovation-based entrepreneurship based and to that goal, the country has allocated a billion euros towards bolstering economy via research, innovation and ICT technology in the period from 2014 to 2020, plus another billion towards high employability and labour mobility, as well as education and lifelong learning. I see great potential for establishing stronger cooperation between Croatian and Italian companies in this segment.
Speaking from the experience of Italian business people, what are the main advantages of doing business with Croatia and is there any room for improvement?
Excellent geographic position and transport links, subsidies for investment promotion and the possibility of using EU funds from a 10-billion-euro budget by 2020 are all great advantages of Croatia. Also, labour costs are one of the most important things that each investor looks at when considering investing in a country. In Italy, the price of labour is twice as high as in Croatia, but the capacity of the Croatian labour force is indeed large and it has considerable potential.
What still needs to be done is certainly work on eliminating legal insecurity, insufficiently flexible labour market, parafiscal charges, and administrative and regulatory barriers, especially at the local level.
In the current financial perspective 2014-2020, EU funds are available for bilateral programmes of cross-border cooperation between Italy and Croatia. What is the role of ICE in bilateral co-operation and how does it support Italian entrepreneurs who are applying for EU funds?
Yes, that's right! The Italian-Croatian Cross-Border Cooperation Programme, which will be financed from the EU funds in the the 2014-2020 period, created additional opportunities for co-financing projects worth EUR 237 million for eight Croatian counties and 25 Italian provinces. During the first contest, which took place last year and was worth 78 million euros, the Programme Leader – Veneto Region – approved projects focusing on the four priority Programme axes – strengthening (blue) innovation, bolstering environment quality conditions and climate change adaptation, protection of cultural and natural heritage and sustainable maritime transport development
In addition to the already mentioned activities aimed at increasing the external between Italy and Croatia, ICE has been supporting Italian entrepreneurs in using EU funds since 2011. Thus, our office in Zagre has the European Structural Funds Desk which task is to monitor EU tenders and programmes to which both Italian companies as partners, suppliers or direct beneficiaries can apply, providing they are already registered as legal entities on the territory of Croatia. The Desk locates local partners according to the tender criteria and organizes meetings with Italian companies to jointly prepare tender documentation and present their projects with which they are applying for co-financing from EU funds.