As a cultural institution operating under the auspices of the line ministry, it is a unique "institution" as such in Croatia, which brings together a gallery, two castles, a natural protected area, etc.
Last year, the Museums of Croatian Zagorje were visited by 301,508 visitors, which ranked us in second place among all museums and galleries in Croatia according to the register maintained by the museum documentation center, which includes more than 170 museums and galleries in the territory of the Republic of Croatia, Jurica Sabol, director of the Museum of Croatian Zagorje, says for Diplomacy&Commerce. In addition to thirty years of operation of the Museum of Croatian Zagorje, we will also mark 70 years of operation of the museum in Kumrovec, and in February we already marked the 450th anniversary of the Peasant Uprising, says director Sabol.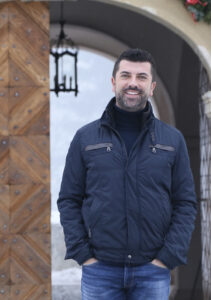 The Museums of Croatian Zagorje are celebrating 30 years of their work. How will you mark this grand anniversary?
The Museums of Croatian Zagorje are one of the most complex heritage institutions in this part of Europe. They consist of five different museums in the area of Krapina-Zagorje County, namely the Dvor Veliki Tabor Museum in Desinić, the only open-air museum Staro Selo Kumrovec, the gallery of Antun Augustinčić in Klanjec, the Peasants' Revolt Museum in Gornja Stubica and the Krapina Neanderthal Museum in Krapina. The Museums of Croatian Zagorje were established by a decree of the Government of the Republic of Croatia in 1992, and we started working on January 1, 1993, so thirty full years of work are behind us. A lot of things happened, but also a lot of beautiful and great things were done in the Museums of Croatian Zagorje.
This year, we decided to celebrate our jubilee with a special ceremony on the International Museum Day, May 18. We are currently shooting a documentary film just for the purposes of that great jubilee, and we will premiere it as part of the 30th anniversary celebration. The ceremony will take place in the Peasants' Revolt Museum, where the administration of the Museum of Croatian Zagorje in Gornja Stubica is located.
The museum's popularity is growing year by year. What do the numbers show, how many visitors were there last year, who are the most frequent guests, what do they expect before arriving, and what do they tell you after the visit?
I must point out that all our five museums are strong cultural and tourist destinations in the Krapina-Zagorje County and that for many years we have been among the most visited museums in the country.
A large number of visitors are an additional wind at our backs and are certainly a great incentive for the years, programs and projects ahead of us. For the thirteenth year since its opening, the Krapina Neanderthal Museum is the most visited of the five museums that are part of the Museum of Croatian Zagorje. Last year, it was visited by about 134,000 visitors. It is important to note that more than half of this large number are families with children and children who come on field trips.
According to some statistical indicators, we see that our visitors come back, especially to the Krapina Neanderthal Museum, which some of them visit even up to three times. Second most visited is the Staro Selo Kumrovec Museum with around 45,000 visitors annually, it is then followed by Dvor Veliki Tabor, the Peasant's Revolt Museum, and the Antun Agustinčić gallery. When it comes to from where our visitors come from, we must say that we record arrivals from all parts of the world, especially before the corona crisis, we recorded visits from Japan, China, Thailand, Australia, New Zealand, Chile, Brazil and the United States of America. I would like to point out that in 2022, the museum in Kumrovac and the Antun Augustinčić gallery in Klanjec recorded the most foreign visitors, and these were visitors from the USA, about 7,000 of them.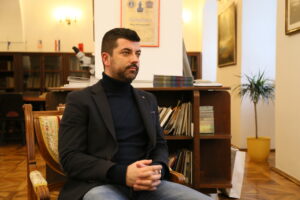 You are a cultural institution that operates under the auspices of the line ministry, and you are the only such "institution" in Croatia that brings together a gallery, two castles, a natural protected area, etc. How much greater responsibility does this fact require, and also what exactly does this mean for your business?
The founder of the Museum of Croatian Zagorje is the Ministry of Culture and Media of the Republic of Croatia, and the museums are owned by the Republic of Croatia. We have two castles, one prehistoric site, Hušnjakovo, in Krapina, an open-air museum and an art gallery. All in all, we have about sixty buildings that MHZ takes care of, about 200,000m2 of green areas and 56 full-time employees. It is a large system that requires a lot of work and time. It is important for us to be guided by strategic planning, to have an integrated approach to management through all five museum institutions and, of course, to follow the guidelines of cultural policy development from higher levels, that is, at the national level.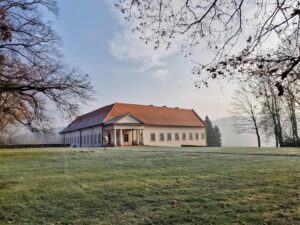 In parallel with the celebration of 30 years of the museum, you have ongoing projects and programs. Can you reveal some of the plans to us?
This year 2023 is an anniversary year and I like to emphasize that, in fact, in addition to thirty years of work of the Museum of Croatian Zagorje, we will also mark 70 years of work of the museum in Kumrovec, and in February we already marked the 450th anniversary of the Peasants' Revolt Museum. And we will mark 50th anniversary of the Peasants' Revolt Museum in Gornja Stubica in October. Various events, such as exhibitions, educational programs and projects, and international cultural cooperation are scheduled throughout the year in all five organizational units.
Annually, we organize around thirty exhibitions, both original and guest, related institutions and museums are guests in our museums, and so are we in theirs. I would especially like to highlight one traveling exhibition in particular, it is an exhibition called "The Prehistoric Man of Krapina", it has been traveling all over Croatia for five years and this year, March 9, was the ninth visit to Vučedol in the Museum of Vučedol Culture.
We also have a novelty, which is the pedagogical program "On Horseback to Museums" where, at the end of the year, we gather all our five museums through one interesting theme. The theme is the horse as a common link, because in all our five museums the horse is treated in a special way within the scope of permanent exhibitions, and the program is intended for families with children. As part of this program, various educational programs are organized during the weekend for five weeks, the finale is in the Staro selo Kumrovec Museum at the beginning of December.
Also, last year we started the revitalization of the Count Oršić vineyard in Gornja Stubica. We are one of the few museums that has its own vineyard where we also produce our museum wine, and we also want to further develop that in the future.
Of the more important projects, I would definitely single out one big project from the solidarity fund, we all know that three years ago the area of Zagorje was unfortunately damaged during the earthquake. Our beautiful baroque Oršić Castle in Gornja Stubica was damaged and we are currently in construction work. We managed to withdraw slightly more than 4 million euros from the solidarity fund. Through this fund, the complete documentation for structural renovation has been prepared, construction works are underway, and we will also get a completely new storage room, i.e. a space for storing museum materials.
On the other hand, we have also completed the project documentation for the upgrade of the Krapina Neanderthal Museum, an investment worth around 70,000 euros for now, we plan to build one floor on the roof of the museum, the so-called Visitor Center, and with this we would round off a beautiful story and offer additional content to all visitors coming to Krapina. The Visitor Center will include an exhibition gallery space, an area for educational programs, an outdoor amphitheater, a smaller children's playground and a catering facility.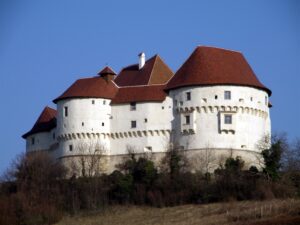 In your opinion, what is missing in Croatia in order to complete the offer of museums and do you have cooperation with similar institutions in the country and abroad?
Croatia truly has many galleries and museums, more than 170 of them are registered in the register, so the offer itself is not lacking, and we are a shining example how one geographically small area can have as many as five different museums, which really attract an increasing number of visitors year after year.
What is a problem for all of us is the accommodation spaces for storing museum materials and museum documentation, I think that this should perhaps be modernized a little more. The Krapina Museum was at the forefront of this about 13 years ago, where a prehistoric theme was told in a modern, contemporary way using modern technologies, multimedia installations, and we can see that this is a trend today, in Europe and in the world. Without modern solutions and multimedia installations, it is very difficult to attract visitors to come back again, but also to develop a new audience. However, in my opinion, there is one more key item here, namely the museum employees and the museum staff themselves, who should be dedicated to visitors as much as possible. Today, visitors want direct contact and relationship not only with the museum staff but also with the museum itself and the programs.
As for international cooperation, I must emphasize that we are very satisfied, but also that there is always room for improvement. Given our geographical location, the most natural and most common cooperation for us is with Slovenian museums, with which we often exchange museum exhibitions. In addition, we participate in EU projects within the Interreg Croatia-Slovenia programme and in the coming period we intend to connect with Slovenian cultural institutions. Also, in the coming years, I would like it if we could connect more strongly with museums from Italy, Austria or even Germany.
What is important to emphasize is that the Krapina Neanderthal Museum is a member of the Ice Age Europe International Council and the European Heritage Label Network, and through such memberships we achieve various collaborations, we publish journals, magazines, and jointly organize international traveling exhibitions. All in all, we are quite satisfied with international cultural cooperation.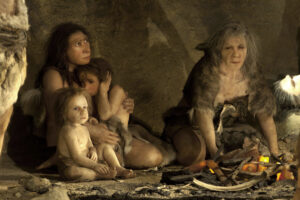 You became the Director of MHZ at a very young age, but you came to this position purely on merit. What guides you in your work and what is your light motive in your career?
Considering that I am a geologist by profession, I started working at the Krapina Neanderthal Museum in 2011. Throughout my career path at MHZ I have held almost all positions, from guide, trainee curator, curator, head of the museum in Krapina and on February 01, 2021 I was appointed director of the Museum of Croatian Zagorje.
Somehow, my motive for candidacy was perhaps the ambition to start some new projects in Krapina, as such a world museum with the richest collection of the Neanderthal man in the world deserves. I am happy because I have good colleagues and associates who not only support my ideas but also contribute to the daily progress and development of our museums. I must mention that the entire documentation regarding the upgrade of the museum in Krapina was completed in a very enviable time frame of only one year, which is the product of joint efforts.
Where do you see yourself and your career in the next 5 years? Are you planning or are you waiting for circumstances and opportunities to "arrange themselves"?
I am currently halfway through my mandate, we have started some projects, some are yet to be launched, and of course, one mandate alone is not enough to realize everything planned. We are talking about multi-year projects and programs that are of national cultural strategic importance, so I don't have a clear vision of what will happen in five years, but one thing is certain, I know that I want to finish everything I started.