The Public Relations and Communications Association (PRCA) announced the launch of its newest Southeast Europe chapter in Slovenia under the overall chairmanship of Katja Fašink during a conference in Ljubljana. The branch follows significant membership expansion on the continent. It is the latest stage in the PRCA's global development, building on its position as the largest PR association in the world.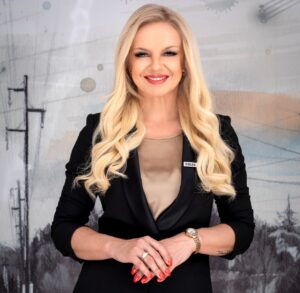 Katja comes to this role as an experienced strategic communicator and author awarded by DAVOS WCFA and PRO PR and nominated by Reuters, Charge, and Energy Awards. She is currently the Chief Communication Officer at ELES System Operator of Republic Slovenia and ELES Group.
PRCA Deputy Director General Renna Markson said: "I am delighted to announce Katja Fašink as our Slovenia Chair. Her commitment to the sector and raising standards in PR and Communications will be invaluable as we begin to support the industry here. This is a wonderful country with much history, and PRCA is privileged to have a presence now here."
PRCA Southeast Europe Network Chair Danijel Koletić said: "Public relations in Slovenia are in a leadership position in the region in terms of position within management and annual project budgets, but there is a lack of unity. PRCA (Public Relations and Communications Association) is an opportunity to upgrade the knowledge of all generations. The establishment of PRCA chapters represents a historic moment for public relations experts from Slovenia. Since it is the first international organization that decided in this way by officially announcing the PRCA chapter in Slovenia as a new opportunity to connect. Although we think we know PRCA and its opportunities to acquire new knowledge and education are more than opportunities for personal development, even though there is a connection of communication experts at the national level, this step represents the presentation of Slovenia and experts on the world map. The greatest challenge at this moment is the unity of the profession. When the profession is connected, then its experts are recognized. I believe that they will recognize this, all those who deal with public relations in Slovenia".
PRCA Southeast Europe Network Slovenia Chapter Chair Katja Fašink said: "Today, we proudly put Slovenia on the map under the wings of the most significant pr association in the world, PRCA. In these disrupted, critical times, we communication professionals need to adapt to the shifts in media trends and agendas faster than ever before. We must connect, learn, and grow, embracing the best ways to manage demanding times, people, and relations. Corporate communicators will face many challenges in the future. Retaining the best employees and investing in their knowledge will be crucial for reputational corporate communication. At PRCA, we proudly possess the world's best expertise and training. As the president of PRCA Slovenia, I will do my best to raise standards in public relations and communication by providing active assistance and personal cooperation to all PRCA Slovenia members who will effectively orchestrate their communication paths to becoming unbeatable leaders in their industries.