For the birthday issue of Diplomacy & Commerce magazine, we have asked Croatian officials for their opinion on political and economic challenges that awaits Croatia in 2020 and the key challenges on a global scale.
President of the Republic of Croatia Mrs Kolinda Grabar Kitarović for Diplomacy&Commerce says: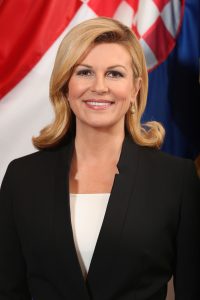 What political and economic challenges await Croatia in 2020?
The Croatian Presidency of the Council of the European Union is certainly a challenge but also an immense opportunity for Croatia that will mark not only the first half of 2020 but also the next years in Europe. During the Croatian Presidency, we will be discussing pivotal issues for the future of Croatia and the EU, such as the Multiannual Financial Framework or the impact of Brexit. Internally, we will have to continue working hard on the issue of demography, such as the implementation of the measures for demographic policy I have suggested. This topic is of immense importance to Croatia and the other EU Member States, and I expect a wide focus on the issue also through the position of the new Vice-President of the European Commission and the Commissioner for Demography and Democracy.
When it comes to the economy, after a prolonged economic downturn stemming from the global financial crisis, Croatia has been experiencing economic growth at approximately 3% per annum since 2015. This growth is higher than the EU average. It is occurring amid falling levels of public and external debt and under fiscal consolidation, which is a significant success. Croatian growth today is stable and sustainable. But there is no room for complacency as major tasks and challenges still lie ahead. We need to make bold, ambitious and decisive changes right now.
We must implement reforms while economic conditions are favourable and external risks do not pose a major threat. We have to implement the reforms that are planned, especially in regard to making the public administration and judiciary more efficient, increasing employment among women and youth, improving conditions for doing business and ensuring the sustainability of pension and health care systems. We are witnessing changes in the global environment and in our closer European neighbourhood. Protectionism, the possibility of rising interest rates and slower growth in the Eurozone, which is home to our largest trading partners, are among the external challenges that are present.
Giving our best in building a strong economy and ensuring prosperity for all of our families and our people is our common task. This has to be one of the top priorities for all of us – including Government, business, professional and academic sectors. In this respect, my views are clear and, I believe, well known to the public. From the first day of my term as President, I advocated Croatia as a country that has great potentials and all the prerequisites for growth. I supported and encouraged the development of a modern market economy based on know-how, where human capital is the most valuable ally to its growth and development. I will continue to advocate this in the future.
What will be the key challenges on a global scale?
Globally, I believe the issue of migration is surely one of the biggest challenges of our time. The world is experiencing a staggering record number of displaced persons, refugees and migrants. This is a direct consequence of on-going armed conflicts and crises, failing states, mass violations of human rights and security concerns. However, mass migration is also caused by other circumstances, especially economic and social challenges, poverty and climate change.
 I have said so before, and I will say it again: we must address the root causes. We must have a proper follow-up. While protecting human rights, we must, in particular, prevent human trafficking and alleviate the negative consequences of illegal migrations. Orderly and regulated migration is our responsibility. We expect from all stakeholders to act responsibly and cooperatively in that regard. As a country which protects the longest external EU land border, Croatia is doing its best to ensure all of the above. And we shall continue to do so. The European Commission has confirmed that Croatia is ready for Schengen and our joining of the Schengen area will make Croatia and Europe safer.
A big step towards stopping millions in fleeing to safety is to work together, through diplomacy, to achieve lasting stability and peace in Syria. We need to make the process of political transition credible and inclusive and to prevent the emergence of radicalization and violent extremism. Another concern is the return of foreign fighters, for which we need to find a unified and sustainable response.
Last but not least, I would like to mention an issue very close to my heart and very troubling indeed – climate change as well as the pollution of the seas and oceans, especially by plastic. This is something I have been speaking about before the General Assembly for the last two years and I believe it is high time we truly take care of our planet, as it is the only home we have. Croatia pays particular attention to the environmental protection of the Adriatic Sea. We are focused on the preservation and facilitation of the marine and coastal environmental recovery, the protection of biodiversity and the sustainable use of the sea and the coastal areas. Croatia's national ecological network covers 37 % of our entire land area and 15 % of our marine area.
However, climate change and pollution threaten our natural resources, our delicate ecosystems and our Adriatic Sea. Marine litter is a problem of increasing concern. It threatens marine life in the world's oceans and in the Adriatic Sea, impacting more than 700 marine species. Croatian coastal areas, one of the world's cleanest, are at times severely affected by poorly managed waste from our southern, neighbouring countries. We know that pollution has a yearly financial negative impact in the billions of USD. These are only immediate costs of the plastic's impact on marine life, tourism, fisheries and businesses. However, plastic pollution carries toxic pollutants into our own food chain. A recent study has revealed that on average people could be ingesting approximately 5 grams of plastic every week, which is the equivalent weight of a credit card. What we throw into the sea today, we reap in our food tomorrow.