For Diplomacy & Commerce magazine, we have asked officials, ambassadors, directors and presidents of chambers of commerce  for their opinion on political and economic challenges that awaits Croatia in 2020 and the key challenges on a global scale.
Kristjan Staničić, Director of the Croatian Tourist Board for Diplomacy&Commerce says: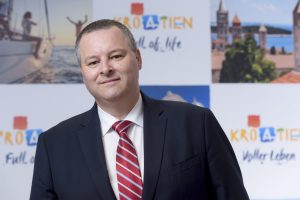 What political and economic challenges await Croatia in 2020?
Although the year 2019 was very challenging and demanding tourism-wise, the Croatian tourism sector achieved excellent results in terms of tourist traffic growth – 4 per cent in arrivals and 2 per cent in overnight stays – which proves that our country enjoys a stable position in a very competitive international market. Aware of the challenges and demands that await us in the coming year, we, in the Croatian National Tourist Board, have already begun intensive preparations for the year 2020 in which we plan to further increase Croatia's visibility on the world tourist map. Among the big projects and events that will mark next year are Rijeka – the 2020 European Culture Capital, Croatia presiding over the European Union and the Summer Olympics in Tokyo, in the sports segment. These are unique opportunities which we are going to utilize to further promote our country as Croatia will be the centre of European political events, while Rijeka, as the cultural centre of Europe, will have a great opportunity to present itself to numerous visitors from all over the world. Also, in 2020, we will continue with other promotional activities aimed at positioning Croatia as an attractive year-round tourist destination with a rich and varied offer.
What will be the key challenges on a global scale?
Globally, it is extremely important to monitor geopolitical trends in the market and plan and act accordingly. Tourism is a very dynamic sector in which trends and therefore market trends are changing rapidly. In 2020, we will continue to open new and distant markets that are key to the continued growth and development of tourism in Croatia. These are mostly tourists who travel mainly in pre- and post-season, while, at the same time, being good consumers. Also, while Europe will remain our most important market, by opening distant markets, we are reducing our dependence on traditionally strong neighbouring markets. Globally, this is strategically important because certain geopolitical trends in individual European countries can and do have a strong impact on Croatia's tourism output. The proof that we are on the right track is seen in the excellent results we have achieved in far-flung markets such as China, the USA, South Korea, Canada and Australia, We have also opened new offices in Shanghai, Los Angeles and Seoul to further strengthen our position. In 2020, we are planning to open an office in Madrid, as this is a city where the most important international tourism institutions and associations are based, while Spain, as our emission market, offers excellent potential and space for the further growth in the arrival of the Spanish tourists in Croatia.