British Ambassador to Slovenia H.E. Sophie Honey hosted a cocktail reception at her residence to celebrate the launch of the 1st issue of The Diplomacy &Commerce Slovenia – the first and only diplomatic magazine in the country, published in partnership with London's The Economist. The event was attended by high-profile guests from Slovenian diplomatic and business community.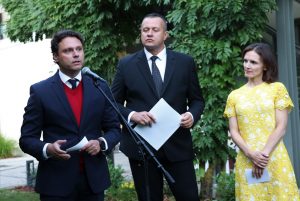 Photo: Diplomacy&Commerce Executive Director Nikola Papak, President of Color Press Group Robert Coban, UK Ambassador Sophie Honey
The attendees were greeted by the director of the publication, Mr. Nikola Papak, the UK Ambassador Sophie Honey, and Mr. Robert Coban, president of the magazine's publisher Color Press Group. The guests of the lovely garden party had a unique opportunity to enjoy the delicious slow food provided by one of Slovenia's top chefs, Mr. Tomaz Kavcic and his award-winning Dvorec Zemono restaurant, and the exquisite wine courtesy of E Vino and Mr. Gaspar Carman.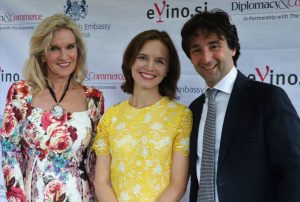 Photo: US Ambassador Lynda Blanchard, UK Ambassador Sophie Honey, Honorary Consul of Serbia to Slovenia Toamaz Kavcic
Ambassador Honey congratulated on the launch of the new diplomatic and business publication, saying that it will enrich Slovenian media environment, and contribute to informing diplomats and other members of international community in the country on all the relevant news stories and events, as well as bring excellent texts and analyses from the renowned British media brand The Economist.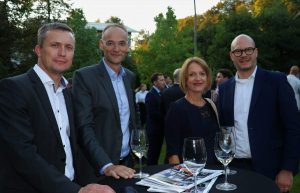 Photo:PhotRok Plankelj, General Manager of Volleyball Club Celje, Aleksander Salkic, Corporate Director of Petrol, Ursa Mancek, Business Association of Slovenia and Serbia, Jernej Smisl, Nova KBM Corporate Directo
Color Press Group's president thanked the British Ambassador for hosting the event, reminiscing about the beginnings of The Diplomacy&Commerce and its traditional partnership with the United Kingdom.
"In March of 2016, at the residence of the British Ambassador in Belgrade, we celebrated the launch of the first issue of The Diplomacy&Commerce magazine, which we started in cooperation with London's The Economist. A year later, at the residence of the British Ambassador in Zagreb we marked the launch of The Diplomacy&Commerce Croatia. This February, again at the British Ambassador's residence, this time in Vienna, we launched The Diplomacy&Commerce Austria. So, for us, if I may quote Sir Winston Churchill it's business as usual", Mr. Coban pointed out.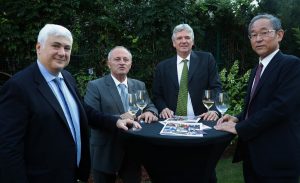 Photo:Ambassadors of Georgia Irakli Koplatadze, Albania Pëllumb Qazimi, Switzerland Denis Knobel and Japan Masaharu Yoshida
Among other distinguished guests from Slovenian diplomatic, business and international communities, the reception was attended by US Ambassador to Slovenia Lynda Blanchard, French Ambassador Florence Ferrari, EU Ambassador Zoran Stancic, Turkish Ambassador Esen Altug, Brazilian Ambassador Renato Mosca, Japanеse Ambassador Masaharu Yoshida, Irish Ambassador Myles Geiran, Swiss Ambassador Denis Knobel, Bulgarian Ambassador Mladen Tcherveniakov, Czech Ambassador Juraj Chmiel, Romanian Ambassador Anton Niculescu, Serbian Ambassador Zorana Vlatkovic, Croatian Ambassador Boris Grigic, Georgian Ambassador Irakli Koplatadze, Albanian Ambassador Pellumb Qazimi, Slovak Ambassador Eva Ponomarenková, and Honorary Consul of Serbia in Slovenia Tomaz Kavcic.