Antonija Šimatić's jewerly is delightfully worn by many, and, as of last year, Antonija has new admirers who fell in love with her angels trumpeteers which she uses to depict the striking appearance of the St. Jakov Cathedral in Šibenik. Her message to all women who feel an artistic urge is:"If you feel it, go for it!"
Although born in Šibenik, Antonija Šimatić now lives in Zagreb and is one of the handful of people who are doing what they love. Despite graduating economics, she entered the world of art and was noticed fast by the people who love sophisticated jewerly and unsual souvenirs.
Her bracelets are popular among the fans of personalized jewerly, setting them apart from people who were mass produced jewelry. Furthermore, she is also popular because of her souvenirs featuring the St. Jakov Cathedral in Šibenik, i.e. the angel trumpeteers that embellish the late Gothic portal on the west side of the cathedral. Since it is a Christmas season, Antonija has also made Christmas angel trumpeteers which make an original holiday decoration.
Where did you get the inspiration for engaging in this particular art / craft considering that you are an economics graduate?
I am inspired by everday shapes and objects around me. My biggest inspiration is the love that I feel for my late nephew, make-up artist Tomo Vrban. I am also inspired by the people who wear my bracelets and I feel fulfilled by their happiness and the satisfaction I get from them when they react positively to my work and effort. I am lucky to have been able to do what makes me happy in life and what I truly enjoy.
Where do you get the inspiration for the motifs you use and which do you use the most?
My bracelets are personalized and I do them the way my lovely customers want to, who are able to express their style and character through wearing them. I consider my bracelets as tiny tattoos that fit everyone in a special way. Everyone finds their style in my motifs and the most popular ones are definitely hearts, stars, angels and hoops that signify endless relationships.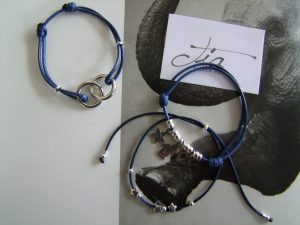 You have wonderfully combined the love for what you do and work. You are also an entrepreneur that is dealing with market rules. How do you deal with the issues like trademarks and unfair competition?
I am doing my work to the best of my abilities. I am not too bothered by unfair competition since I am always looking ahead in order to improve my products and make them more special than other products in the market. People recognize and appreciate quality.
You use social media to sell your products. Who are your target groups? Who wears your jewelry?
People of all ages wear my bracelets. Actually, everybody who finds themselves in my work.
Have you been thinking about increasing your production and are there opportunities for doing so?
When it comes to bracelets, I am afraid the answer is "no". I have expanded my business by expanding my range. Last summer, I started collaborating with the Museum of the Town of Šibenik and its director Mr. Željko Krnčević. I produce angel trumpeteers from plaster on a black or grey wooden platform that are sold as souvenirs in the Museum and come with the description and historical information in the Croatian or English language. My inspiration for this came when I visited the French town of San Remy for the first time where I saw a smiling angel that reminded of the one that we had in Šibenik that is the bearer of happiness and laughter. The original author of the relief that I model my angels after is the renowned Bonino da Milano. Considering that Christmas season is upon us, I have also made Christmas angel trumpeteers.
Do you have a message for all those women who read this interview and want to start a similar business? How much should they listen to themselves and what they feel, and how much should they inquire about the market rules and what awaits them in the global marketplace?
If you feel it, go for it!