Croatia's accession to the EU has opened new perspectives for cooperation between Greece and Croatia for this region as well.
"There are growth opportunities and I do not see any particular obstacles for the development of our bilateral commercial relations," says Christos Farmakis, First Counsellor for Economic and Commercial Affairs at Greek Embassy in the Republic of Croatia.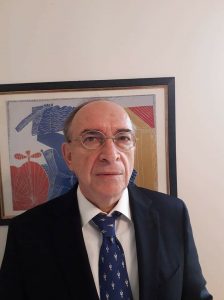 1. What opportunties can the connections in the Adriatic-Ionian region create and what connections between Greece and Croatia in this community would you like to single out as particularly promising?
The Adriatic / Ionian region still lacks modern infrastructure and one important reason for this is the difficult morphology that characterizes it. The role of European funds, as well as funding from other international organizations, will make a decisive contribution to the upgrading of transport infrastructures. For companies from both countries, for the time being, it's easier to establish contacts and do business.
Greek and Croatian foreign policy have many similar interests concerning cooperation in the context of the EU, the Mediterranean and the SEEuropean Region. More specifically, there is a keen interest in cooperation in the framework of the EU Strategy for the Adriatic and Ionian Region (EUSAIR), which is one of the four EU macro-regional strategies. The EUSAIR covers eight countries: four EU Member States (Croatia, Greece, Italy, Slovenia) and four non-EU countries (Albania, Bosnia and Herzegovina, Montenegro, Serbia) and it aims to promote economic and social prosperity and growth in the region by improving its attractiveness, competitiveness and connectivity. The 1st Forum of EUSAIR was organised in Dubrovnik (Croatia) in May 2016 and the 2nd took place in Ioannina (Greece) in May 2017.
2. The Trans-Adriatic Gas Pipeline project has been talked about for years now, but it seems that, now more than ever, the changing geopolitical trends are exerting a great pressure on energy issues. How do you see the future of this gas pipeline?
The Ionian Adriatic Pipeline (IAP) is a natural gas pipeline which will be connected to the Trans Adriatic Pipeline (TAP) in Fier in Albania and to the Croatian natural gas network in Split via through Montenegro and Bosnia and Herzegovina. The Ionian Adriatic Pipeline (IAP) is a very important project which will increase energy security for the region. The announcement of the Azerbaijani State Oil Company (SOCAR), on July 27th, about the formation of a new corporate entity that will oversee the future development of the Ionian-Adriatic Pipeline (IAP) project was a very important moment for this project. However, the most important obstacle for this rather costly project is its economic performance because some countries are not able to absorb large quantities of natural gas.
The Trans Adriatic Pipeline (TAP), worth 4.5 billion euro, is one of the priority energy projects for the European Union (EU) because it diversifies supply sources and increases energy security. This pipeline will start Greece and will end in Italy, via Albania and the Adriatic Sea. It will be a 3,500-kilometre long gas value chain stretching from the Caspian Sea to Europe. It is expected to become operative in 2020.
3. There is also a transport connection that the Adriatic-Ionian motorway provides. How can that boost the trade between the two countries?
The construction of the Adriatic-Ionian motorway, known as the Blue Corridor project, is planned to begin before 2020. The motorway should stretch along the eastern shore of the Adriatic and Ionian seas, crossing Slovenia, Croatia, Bosnia and Herzegovina, Montenegro, Albania and Greece. It will radically change the whole region and bring our countries closer while promoting economic growth and facilitating transport of goods and, above all, increasing the tourist influx in the region.
4. What are the key factors that impede the Greek-Croatian trade, which remains below the optimal level despite the good bilateral relations?
There is mutual interest in expanding the bilateral economic cooperation, which has significant potential for further growth. Croatia's accession to the EU on 1st July, 2013 has created a favourable framework that allows the further expansion and deepening of the bilateral economic cooperation, mainly in the fields of energy, tourism, infrastructure, and the use of European funds (where Greece has a lot of experience). Βoth governments are interested in further development of economic relations and that was the subject of the very fruitful discussions that the Greek Secretary General for the International Economic Relations, Mr. Ioannis Brachos had last October in Zagreb.
Bilateral trade has been mostly stable in the last 3 years. According to our statistics, the value of the bilateral trade amounted to 130.7 million euro in 2017, with the value of Greek exports amounting to 79.1 million euro and the value of Croatian exports to Greece to 51.6 million euro.
There are growth opportunities and I do not see any particular obstacles for development of our bilateral commercial relations. What we need is to increase communication between Greek and Croatian businesses, providing them with the necessary information on both markets. This is very important and is one of the tasks of the Office of Economic and Commercial Affairs at the Embassy of Greece in Zagreb.
We believe that the chambers of economy can give a strong contribution toward that aim. I would like to me remind you that a memorandum of cooperation was signed in Zagreb last October between the Athens Chamber of Commerce and the Croatian Chamber of Economy. On this occasion a successful economic forum and B2B meetings were held with the participation of the members of the Greek delegation and Croatian business people.
5. How big is the Greek business community in Croatia and how do they see the business perspectives in this area?
Several Greek companies operate in Croatia. I will mention just a handful: Coca Cola Hellenic Bottling Company, Aluninco, Alumil, Marina Stores (Lalizas), Anterra Doo (AUTOHELLAS/Hertz), Chipita, Dolphin Capital Investors and as of recently, Intralot which has signed a 10-year contract with Croatian State Lottery. Goldair Handling (a leading supplier of ground handling services in South East Europe) has received the licence to operate in some Croatian airports. Also, there are other important Greek firms with international experience that are interested in operating in Croatia, such as Intacom-Telecom, Ellaktor Group (Aktor / Hllektor), Linakis Digital, Enviroment Plan, Asprofos s.a, Mistras s.a., etc.
6. Is there any possibility for renewing cooperation between the Croatian shipbuilding industry and the Greek shipowners?
European shipyards have been gradually losing their market share in shipbuilding volume, from 25% in 1990 to less than 3% in 2015, mainly due to low cost competition from Asia. Τhis has created many problems in this segment, not only for Croatia but also for Greeceo, and many of these problems are not solved yet. Beyond that, I believe that there is a potential for cooperation because it is estimated that Greek ship-owners create an annual demand of about €8 billion in marine equipment, of which €6 billion concern construction of new ships (through shipyards) and the remaining €2 billion relate to direct expenditure by shipping companies for repairs and fleet maintenance (spare parts, etc.).
7. There has been talk about establishing shipping routes connecting the ports on the west coast of Greece and the Croatian ports of Dubrovnik, Split and Rijeka. Can this result in a synergistic effect in tourism?
These decisions are made exclusively by companies on the basis of purely economic criteria. I believe that, in the future, the development of infrastructure and tourism in the whole region will create appropriate conditions for establishing shipping route connections between ports on the west coast of Greece and the Croatian ports. This could be feasible even today but would require a policy of incentives from Croatian ports, particularly related to costs and other facilities.