Goldair Handling is one of the leading ground handling service providers in South East Europe, offering a full range of passenger, ramp, aircraft, cargo and mail services.
"We had been observing the Croatian market for many years, and the conditions to come to this market became right for us in 2017," says Alexandros I. Fourlas, BoD Vice Chairman of Goldair Handling S.A.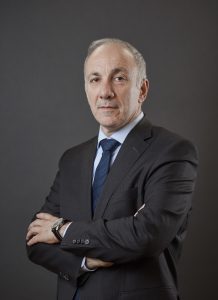 1. What is the potential of the regional market in terms of your services?
Goldair Handling is one of the leading ground handling service providers in South East Europe, offering a full range of passenger, ramp, aircraft, cargo and mail services. Today, Goldair Handling operates in 26 airports in Greece, 3 airports in Bulgaria through its subsidiary Goldair Handling Bulgaria and 2 airports in Cyprus through the affiliated Louis-Goldair Services (LGS). Moreover, our company provides ground handling consulting services to a number of clients, e.g. in Ethiopia and Oman. This year, 2018, was the year of unique growth for Goldair Handling: we are serving over 148,000 flights (8.4% growth) and 34 million passengers and we had a total of 4,500 employees in the summer.
Promising potential
We are developing in the markets with stable economies and institutions, growing tourism and transport sectors, and legal frameworks which support investments and employment. We seek to expand our presence in S.E. Europe, utilising our strategic position in tourist markets which are interlinked. In this way we are adding value to our stakeholders: airlines, airports, government authorities, local economies and the people.
We are convinced that Croatia is a unique place to establish our presence next. It has three fast developing airports – Zagreb, Split and Dubrovnik – all of which are of a substantial size with more than 2.5 million passengers annually. The airlines flying to these airports are present in S.E. Europe and there are opportunities for synergies. The modernisation and expansion of the airports along with significant tourist and business development of the respective cities are expected to generate even larger traffic in the next decade. This is going to benefit all airport stakeholders and the country itself.
Moreover, all three airports – Zagreb, Split and Dubrovnik -need to provide access to private ground handlers in 2019, in line with the EU framework, the Croatian regulation and the government's strategy.
2. How do new development trends in local and regional airports affect the demand for your services?
In the last few years, the aviation industry has been going through significant, continuous changes involving the introduction of new technologies, innovative solutions and improvement of service levels. These changes are a result of regulation, environmental footprint reduction and a continuous drive for improvement and productivity enhancement. While always aiming to be on top of these trends, we:
Constantly invest in new technologies (equipment, GPS systems, integrated HR management and real time allocation systems, integrated Quality Management software etc.),

Follow up closely industry changes and inovations (self baggage drop-off, e-gates, etc.) and constantly update our operational procedures and training programs for this purpose,

Invest in more enviromentally-friendy ground handling equipement, to meet the ever increasing upgrade of airport services, in line with our Corporate & Social Responsibility programme,

Continuoulsy upgrade our services (e.g. design, management and operation of luxurious airport lounges).

3. What are the specifics of the Croatian market? What is your position in it?
We have evaluated the sustainable growth of the airports and the interest of the Croatian Authorities and the government to attract private investments.
We studied the legal framework & regulations, and held numerous meetings to understand the business environment, key issues and prerequisites for ground handling. We built a strong team of experts to complement our experienced business development team and in June 2018, we obtained CCAA's approvals for ground handling services in the three airports.
Next step is to be granted access to these airports, and to base our people and equipment there. This will allow us to:
invest in specialised machinery, equipment and business systems,

hire local people and train them for safety, security & operations.
We are working closely with the airports, the Ministry of Sea, Transport & Infrastructure and CCAA for the purpose of ensuring access permission. This is probably the most critical goal for us in Croatia. We hope that, with their support, we will be able to launch operations in the first couple of months of 2019.

4. What are the main driving forces behind your services in Croatia – tourism, business development or other market developments?
It is of vital importance that the country systematically builds its international profile as a stable and reliable business & investment location, highlighting its unique advantages and attractions. We want to endorse Croatia's efforts by bringing in investments, the specialized know-how, an international network of partners and the proven reputation for offering high quality services, thereby supporting the airports' attractiveness. Tourism is a very dynamic sector in the economy which drives airport traffic now and in the future, together with an attractive business environment. Also, it is important to note that airports will open access to the private sector, which will lead to higher airport traffic and employment. Hence, the introduction of a competitive market environment benefits everyone.
5. How much did Goldair Handling invest in Croatia, and what are your plans for the future?
The company's investments to date involve the establishment of a Croatian legal entity, the preparation of certified operation manuals and procedures, and numerous working hours.
The next phase (beginning of 2019) will involve the investment of between 3 and 4 million euro in specialized equipment, IT systems & infrastructure, as well as the hiring of 45-60 staff. These figures are rather basic and they will be increased in next 2-3 years onwards.
6. Human capital is a key factor in providing quality of ground handling services.
How do you ensure that your staff is able to meet daily challenges?
Our people are our strength. Without them we would not be where we are today and with them we will advance even further. The careful selection of our employees – partners is guaranteed as early as the first interview stage. Our people strategy is in line with the top-end industry and regulatory requirements and puts emphasis on life-long training and constant development of individual skills, to ensure the high quality of our services. This is further shown through numerous airline awards and excellent results we have achieved in continuous audits of our operational readiness carried out by airline companies and international organizations.