Marking the 67th anniversary of the Hungarian revolution and freedom fight of October 1956, the Hungarian Embassy in Zagreb hosted a reception for a wide range of guests of the Croatian diplomatic corps and high-ranking representatives of the Croatian Sabor, the Office of the Republic of the President and of the Croatian society and economy.  In his speech H.E. Dr. Csaba Demcsák, Ambassador of Hungary to Croatia reminded that during the time of the 1956 revolution a significant number of Hungarians found shelters in Croatian cities in the territory of the former Yugoslavia. Thirty years later, during the Croatian homeland war Hungary also offered shelter for a hundred thousand Croatians fleeing from the war.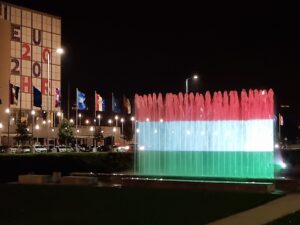 He highlighted that Hungary and Croatia, having 800 years of common historical ties, are keeping up a high-level of fruitful dialogue, especially as regards protection of the national minorities, the economy, energetics and on matters of cross-border infrastructure development.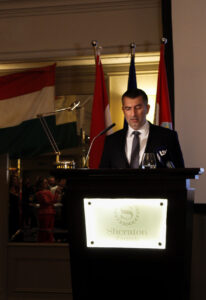 Ambassador Demcsák also stressed that wars and terror threats of recent times have alerted us the we need to act together with all possible means towards regaining peace and stability. For Hungary and Croatia in this sense fighting against illegal migration and protecting the external borders of the European Union pose a joint and shared responsibility.
As a tribute to the memory of the 1956 Hungarian freedom fight, the water columns of the fountain (Fontane Zagreb) at the National University Library, on the night of 23 October 2023 were covered in the national tricolors of the Hungarian flag.