Katja Fašink, CCO at ELES Slovenia • PRCA Southeast Europe Network Slovenia Chapter Chair – ELES, combined transmission and distribution system operator / ELES GROUP | Member Leader at Forbes Communications Council is an example of a successful business woman who is incharge of communications in the energy sector in the best possible way as a chief communication officer. In addition, she bases her professional career on the development of the public relations sector, also in global brands of well-known media. For Diplomay&Commerce, we are transmitting the text (with her consent) that Mrs. Fašik gave for Forbes magazine. The topic of the text is, among other things, organizing and communicating energy summits.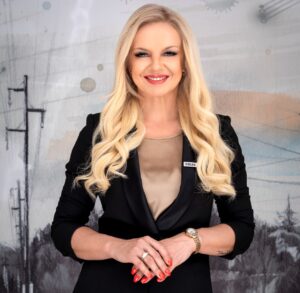 As a chief communication officer, I get many requests for cooperating/contributing to collaborative spaces—whether online conferences or in person, digital panels and newsletters.
While engineers are ready to present world-changing technologies, and high-end innovation projects are ready to be revealed, I found that the organization and communication around these events haven't always been effective. Seamlessly blending the content of the summit with the organizational aspects is important—and integral to creating a highly collaborative and creative space.
I get the exact event offers like all other energy companies. There needs to be an alignment in the future with, for instance, system operators, distributors, traders, innovators, educational institutions, etc. Unfortunately, many financially strong companies lack innovations, relevant content, or sector-influential performers. So, organizers don't segment energy stakeholders properly and undermine the power of high-end innovation and content. Instead, major companies present over and over.
However, the world of energy innovations regarding the energy crisis is moving faster than ever, and we're facing global challenges that need to be discussed and aligned to be successfully solved. If the primary goal of summits and international conferences will be money and profit while neglecting these elements, then we must find a more competent and effective way to exchange the practices of the best energy engineering.
For many years, energy companies had the option to pay for event attendance. This brought them posts on their media channels, opening remarks, speaking slots and panel discussion slots—it can also sponsor coffee breaks, lunches and badges. The highest price is, of course, presenting on the stage for managers of large energy companies.
Taking a look at an upcoming event, I was disheartened at the formulaic prospect.
I downloaded the summit's agenda. Not one speaker or panelist is mentioned in the published program. There are no highlight speakers representing innovation and no revolutionary content. The result will be an event full of imitations and copies of solutions without fruitful discussion among crucial experts.
The world hungers for the best solutions, and we need a light shed on the best solutions and hope, not on people who pay for attention under the stage lights.
How can the right people, who maybe don't have the financial backing for summits, be connected to the best world engineers and projects?
For Attendees
Check first the biggest ones by specific criteria, such as attendance rates, international recognition, the caliber of speakers, or the impact of discussions and decisions during/after the event. Different energy summits focus on renewable energy, fossil fuels, nuclear energy, sustainability, technology, policy and industry trends. To determine how popular the energy summit is, research attendance numbers, speaker lineup, media coverage, participant feedback and industry recognition.
A list of major international energy summits that are widely recognized: World Energy Congress (WEC), CERAWeek, World Future Energy Summit (WFES), Bloomberg New Energy Finance (BNEF) Summit, SPE Offshore Europe, Energetika by DELO, International Conference on Renewable Energy (ICREC, ICREN), CIGRE Symposia, Paris Session CIGRE, CHARGE Iceland.
Effective Communication Techniques For Promoting International Energy Summits
Help disseminate information, engage stakeholders and attract participants. Follow primarily the principle of clear messaging.
Develop concise and compelling messages that convey the value and significance of the summit and highlight critical themes, speakers and benefits of attending.
For visual communication, use eye-catching graphics, images and videos to grab attention and be consistent with your branding and relevant to the energy sector.
When dealing with social media engagement, utilize different platforms to reach diverse audiences, each requiring a unique communication approach, and create engaging content like polls, quizzes, infographics and live videos.
Develop deeply informative and valuable content like articles with a science touch-up and helpful blogs (written by energy niche experts, not ChatGPT). Only send up to five newsletters that provide insights into the summit's themes and agenda.
For the best technical solutions and content, check organizations like CIGRE.
When Planning Email Campaigns
Craft personalized and segmented email campaigns to target different audience groups effectively. Use attention-grabbing subject lines, concise copy and clear calls to action. Define one person who will write to the company board and the CCO.
The public relations team needs to prepare and distribute press releases to media outlets, where you offer exclusive interviews or articles to industry publications and energy industry influencers.
Engage with thought leaders in the energy sector to promote the summit.
Leverage their credibility and following to extend your reach.
Make innovative and reputational partnership announcements; publicize collaborations with sponsors, partners and speakers through premium channels and media. Tailor your whole communication approach based on your specific audience segments and their preferences, continually refining your communication strategy for maximum impact. Remember that consistency in branding and messaging across all channels is crucial.
Rethink the business models of organizing conferences; with a more intelligent approach, you will boost the profits and, most importantly, the quality of attendees and innovations.
Katja Fašink | CCO at ELES Slovenia • PRCA Southeast Europe Network Slovenia Chapter Chair – ELES, combined transmission and distribution system operator / ELES GROUP | Forbes Communications Council