Center is pivotal in collecting, managing, and analyzing business zone data in Zagreb County.
Investing is crucial for financial growth and security, allowing wealth accumulation and a safety net. It yields passive income, diversifies portfolios, and safeguards against uncertainties, for Diplomacy&Commerce says Marko Ignjatić, interim CEO of Zagreb County Entrepreneurship Center. With its favourable location, skilled labour pool, diverse zones, and incentives, Zagreb County beckons investors to Croatia, creating a conducive environment for varied industries.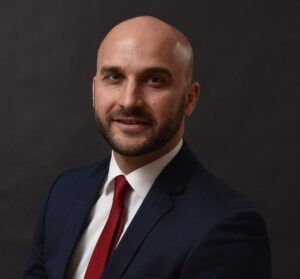 You are at the helm of the Zagreb County Entrepreneurial Center. Please tell us the Center's purpose and how it operates.
The Zagreb County Entrepreneurship Center is committed to fostering a customer-focused entrepreneurial ecosystem in Zagreb County. It leads county and local government development efforts, aiming to enhance residents' quality of life and boost job creation by nurturing small and medium-sized businesses in manufacturing, agriculture, and tourism. The Center drives diverse entrepreneurship development programs, including Croatia's Rural Development Program. This initiative strengthens rural areas and agriculture in Zagreb County and nationwide. Additionally, it acts as a vital communication link with the community and businesses, publishing the County Chronicle, a free informational digest. This publication covers county life, governmental activities, education, healthcare, and success stories of entrepreneurs and farmers who have secured non-repayable funds. It also disseminates public tender and call information for legal entities and residents.
What would you highlight as crucial when asked – why invest?
Despite the risks, the rewards are significant. Setting goals, gauging risk tolerance, and planning long-term is vital for success. Investments also benefit communities, creating jobs, reducing unemployment, and stabilizing families. They boost local economies, spurring demand for local goods and services, aiding small businesses, and increasing tax revenues for better infrastructure, education, healthcare, and public services. Moreover, they foster educational programs, elevate the workforce, and enhance overall quality of life.
What are the advantages of investing in Zagreb County and the additional benefits investors can expect?
Investing in Zagreb County offers numerous benefits for investors. Its exceptional transportation connectivity, including highways, railways, and airports, provides efficient access to European markets, making it a strategic logistics hub. The proximity to Croatia's capital, Zagreb, enhances collaboration opportunities. With a diverse network of entrepreneurial zones across cities and municipalities, investors can choose from various locations for projects of all sizes. Zagreb County's rapid economic growth and supportive business environment, including incentives, administrative assistance, and expert project support, make it an ideal destination for realizing business ambitions. Leveraging its strategic location and regional support, investors can thrive here.
What sets you apart, and what would you identify as your advantage compared to other regions in Croatia for investment?
For several compelling reasons, Zagreb County, situated in central Croatia, is a prime investment hub. Its strategic location at the nexus of vital transportation networks—roads, rails, air, energy, and infrastructure—provides swift access to Croatian regions and European markets. The county envelops Zagreb city, fostering seamless collaboration with the capital's business community. Within a 50-kilometre radius, Zagreb County benefits from a skilled workforce nurtured by nearby scientific institutions. Highways coursing through the region and proximity to Franjo Tuđman Airport make it an entrepreneur's dream, with well-placed zones easing distribution logistics. Numerous renowned retail chains have set up shop in these zones, affording investors direct access to markets. Zagreb County caters to projects of all sizes, boasting over fifty versatile entrepreneurial zones. Municipalities here offer financial incentives, reduced contributions, and infrastructure support, simplifying business operations.
What needs to be added, and where is there room for improvement regarding the conditions offered to investors?
To enhance Croatia's appeal to investors, several critical improvements are needed. Streamlining administrative processes and fostering interdepartmental collaboration is crucial. Accelerating permit approvals, possibly with a 60-day deadline, showcases government dedication to supporting investors. Personalized assistance for investors navigating administrative procedures is essential. Investment in infrastructure, including housing, transportation, and logistics, is vital for smaller communities. Collaboration between local communities and investors is necessary to create suitable conditions for workers relocating from significant cities. Efficient regional and public transportation networks are pivotal for distributing investments. Mobilizing a broader workforce, such as retirees and students, can alleviate labour shortages. Simplifying tax regulations and health insurance can encourage occasional work. These administrative, infrastructure, and regulatory enhancements can realize Croatia's potential as an attractive investment hub.