The Croatian Mountain Rescue Service ( CMRS)  is a non-profit public service for rescuing from inaccessible terrain and in difficult weather conditions, so Defender is the most resilient and one of the most capable allies to CMRS  volunteers. Wallis Adria doo, Regional Importer for Jaguar and Land Rover, in cooperation with the authorized sales and service center in Croatia, Auto Benussi doo, enabled the repair of the old Defender and gave the Croatian Mountain Rescue Service a new Defender 110. The donation included and Davanti Tires, which donated premium Davanti Terratoura all-terrain tires to keep old Defender models safe and still driving CMRS  volunteers.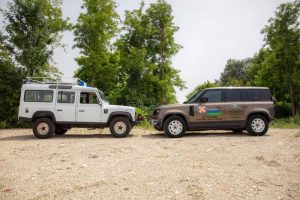 CMRS  members carry out about a thousand interventions a year throughout Croatia, and have been particularly active in providing assistance to the population in earthquake-affected areas. So far, they have used the old Defender models, which will still remain in service, but will be joined by the latest model that offers a multitude of advanced technologies for all field and weather conditions.
CMRS  volunteers will have at their disposal a vehicle with the strongest body that Land Rover has made so far in combination with first-class technologies. The new Defender pushes the boundaries without ever losing the personality and authenticity of the original model, and will allow volunteers to cross deep water completely safely making it the most capable and comfortable vehicle. Durable rubber floor coverings in the interior provide protection against spills that occur during the daily adventures, expeditions and challenges that await CMRS members.
"CMRS has in its ranks a whole fleet of Land Rover Defenders who daily participate in rescue operations on inaccessible terrains throughout the Republic of Croatia, and if necessary beyond. In the past period, the vehicles were active in providing assistance to the population in the earthquake-affected area, where they made their way to the most inaccessible parts of the Banovina without any major problems. The donation of the repair of the old Defender will greatly help the engagement of the CMRS  in the Sisak-Moslavina County. We have already started testing the new Defender that we received for use and we are surprised by its off-road capabilities, which together with the implementation of modern technologies make it a top vehicle. I take this opportunity to thank the companies Wallis Adria d.o.o., Auto Benussi d.o.o. and Davanti Tires on a valuable donation and I look forward to working together. " – said the head of CMRS  Josip Granić.