Start of epidemic gave me time to learn, improve my work and in a way to start preparation on projects that I want to achieve in next two years. Every bad period has it's ending, for Diplomacy&Commerce says
designer and owner of Fashion boutique house Maleza Danijela Gazdek.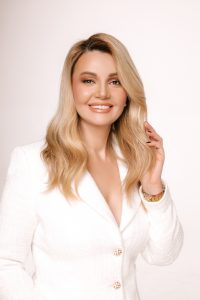 Fashion boutique house Maleza was established last year, just before Covid epidemic. Challenging times led this young mother of three to be even more stronger and willing to suceed in creating a fashion line in limited series, made of the finest materials from around the world. Her debut collection was immediately well-received by fashion lovers, selling only only at that point. Now, owner Danijela Gazdek is looking forward to next step, going public with her work hoping that in near future she will open her first showroom.
1. You started your company in challaenging times. Where did you find the enthusiasm when every segment is effected due to Covid. How did you start designing?
Challanges times have always existed and they have always been part of each individual lifes. Only difference now is that we have been going through this on much bigger scale. Every person and business has been effected. We all have to belive that we will go back to old normal in near future. Most of the people live in fear while I choose to live for the dream. This is why I started my fashion brand Maleza. Fashion is my love and I am very grateful to be privileged to do what i love the most.
2. How would you describe your fashion brand? How does Maleza woman look like?
Maleza is all about handmade clothes, this process is much longer but final product is of highest quality. I give special attention to fabrics which I choose from around the world to get the highest quality. All this requires a lot of effort and patience but result is combination what I have imagined, from first sketches to final stitch. My goal is to make woman feel beautiful and feminine. I don't follow trends, I follow my
intuition.
3. How does Maleza woman look like ? She is a mother, wife, business woman, politician, athlete … My clothes are made to make each woman no matter her size look and feel like an goddess. How would you describe fashion sence in Croatian women and who would you like to see wear
your creations ?
Our ladies have always been very fashion conscious. I believe that I have also contributed with my designes and will continue so in the future. Who would I like to dress ? Woman that I would like to see wear my design is fashion concious that supports quality of my work and feels special wearing it. It would be an honour to see our first lady wear my designs as well as the other wonderful ladies from political scene.
4.You have mentioned project before. Where do you see Maleza in
the future ?
Yes, we have many things in works for this year. I am happy that our summer collection including
wedding dresses is coming out really soon. We shoot it at Meneghetti Hotel few weeks ago. For this campaign we collaborated with Austrian shoe brand Högl. My other other project involves production of luxury line of bedding, cloaks and towels for hotels. But my focus and my teams right now is autumn.
My PR agency is working on charity event that would involve our renowned painters. For this occasion I will be designinng 10 dresses out of white silk which would become with help of our artists unique masterpieces. All dresses would be auctioned at gala dinner and all proceeds would go to helping village
Majske Poljane. I have very strong childhood memories to this place, it is part of me and who I am today and I feel duty to help people of that part. I don't want to fail them as they still are in great need of all our help. I hope to get support from our Presidents and mayors office as well as our diplomatic community. We have started work on this and I hope I can contribute to healing of families of that part of our beautiful country.