Chairman of the Managing Board of Siemens Croatia and the current president of the Foreign Investors Council (FIC) in Croatia, Mladen Fogec has been re-appointed as the Council's president at its assembly meeting. Fogec's term as FIC president will expire in 2020. As the Council's president, and in cooperation with other members of the Council's Managing Board, Mladen Fogec will continue to work on boosting the cooperation with state bodies and business associations in Croatia, as well as on establishing stronger connections between existing investors and those who are yet to come to the Croatian market.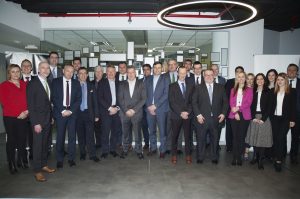 Zoltan Aldott, CEO of INA, and Viktor Pavlinić, CEO of Tele2 d.o.o., were appointed Vice Presidents of the Council. Michael Georg Muller, CEO of Raiffeisenbank Austria d.d., Burak Baykan, Regional Director of Doğuş Group for Croatia and Montenegro, Dejan Ljuština, partner in PricewaterhouseCoopers Consulting d.o.o., and Tomislav Šlat, director of 3M for Southeast Europe, have all been appointed members of the Council's Managing Board.
The FIC Secretary General, Igor Zgrabljić presented the results of the Council's activities from last year, and announced the upcoming annual foreign investment conference that the Council will organize this year.
At the Assembly meeting, the FIC executives also discussed the plans for 2018, with an emphasis on further development of cooperation and active communication with the Government of the Republic of Croatia and the Croatian public with the view of a faster improvement of the investment climate and attracting both foreign and domestic investors.
Source: FIC