There is a strong sense of progress in the business climate lately, and to that end, we are eagerly expecting the announced new structural reforms.  The business climate in Croatia has been improving year-on-year despite the difficulties from a few years ago. These difficulties were most evident in opening companies, and obtaining necessary documents and permits – says Ivica Jakić, President of the Swiss-Croatian Business Association.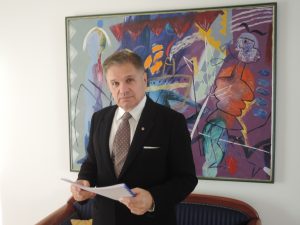 1.What do Swiss companies in Croatia consider to be the main advantages for doing business here, and what are the most common challenges they face?
The advantages of doing business in Croatia are the favourable geographic position of the country, and EU and NATO membership which ensures business security and availability of skilled labour. All of this facilitates opening of new companies that contribute to the added value, especially in the IT sector, and manufacturing of finished wood and metals. Therefore, Croatia should not be seen as a country that can produce only certain products on a massive scale. On the other hand, the challenges are still present, starting with legal insecurity, frequent problems with tax institutions, and frequent changes in regulation.
Legal uncertainty is particularly pronounced at local level and this is the biggest problem; much larger than the relatively expensive labour that is often seen as the biggest obstacle. Various examples corroborate that oftentimes, there is enough support provided at the national level, but not enough at the local. The judiciary is still sluggishness in terms of making verdicts, and in this regard, we expect new reforms to increase legal certainty. In the financial sense, certain enforcement institutions or rather parafiscal levies should be excluded from the financing chain.
Given that the Association meticulously collects and forwards the information about problems encountered by businesses to the relevant authorities, which areas, would you say, have recorded the greatest progress, and in which more effort should be invested?
What constitutes progress are also announcements from the Government and the competent institutions that they will start making it easier for businesses. Some things have already been done such as tax reform that has already yielded the first results. More effort should be invested in major structural changes which has not been done so far. Generally speaking, we are taking small steps in the right direction. For instance, obtaining building permits for construction of business facilities is going rather slowly if we compare it to the countries such as Switzerland or Austria. Specifically, if you want to rent a tourist facility in Switzerland, you only need one document. You just need to contact the competent tax authority and they will send you a confirmation that the facility is now yours to rent via e-mail. In Croatia, if you want to rent a tourist facility, you must obtain eight permits. This means that eight different institutions need to issue you with permits, and you are still not sure whether you will be given all the required documents like, for instance, a water safety certificate. Although it is a common understanding that the water is clean enough to use, here you still have to prove it. The same goes for electricity, test certificates and other permits, which creates a climate of mistrust and obstacles that business people are not always willing to understand, i.e. they often wonder why are such documents needed in Croatia but not in Switzerland.
What is the structure of Swiss investments in Croatia and which sectors are the most appealing to investors? So far, a number of well-known, successful Swiss companies have come to Croatia. Can you name some of them and how many employees do they currently have?
From 1993 to date, Switzerland ranks 11th in terms of investing in Croatia. Switzerland stands out from other countries in terms of the investment structure. The Swiss have not made huge investments that are widely known, like telecommunications and media, but are more prone to making smaller production investments. Geographically speaking, Swiss companies mostly invest in the north-western part of Croatia. Also, there is a growing interest for investing in tourism, wood processing industry, energy and IT. One of the biggest investments is definitely the Straža wind farm which has received several awards as on the biggest and best investments. Then there is Holcim and others.
4. Together with Germany and Austria, Switzerland has been helping Croatia with the implementation of dual education. What kind of experiences have you had so far and what are the specific ways in which you have been helping?
First and foremost, I would like to mention the Swiss enlargement contribution to the new EU member states. The programme's budget allocated to Croatia is 45 million francs, and one of the project that is financed is promotion of the so-called vocational education. This does not necessarily mean the implementation of dual education but rather the modernization of current vocational education with the help of 2 million Swiss francs. A press conference was held in December last year to mark the official start of the project. In any case, Switzerland is willing to help financially, as well as by giving advice and relaying its experiences. Croatia certainly has to determine its own path and development direction in education. Together with Austria, we have been working on promoting dual education, even though it seems that the awareness of the need for such education is already high enough. We have underline out that everything could be done much quicker, especially in terms of the cooperation with the Croatian Chamber of Commerce (CCC).
What are your plans in 2018 in terms of promoting the external trade between the two countries? Have you been cooperating with other chambers and business associations in the country, as well as with the state institutions, the CCC and the Croatian Government?
Our basic task, besides communicating with Swiss companies in Croatia, is trying to organize seminars where we bring reputable business figures and representatives of legislative and executive powers that can help with concrete problems. We are trying to improve the relationship and cooperation between Swiss companies and state administration, i.e. ministries and various agencies, in order for them to implement our requirements regarding better business conditions in the country.
We also support the organization of the so-called Swiss Economic Mission in Croatia. In this regard, we expect a delegation of top business figures from Switzerland to visit us this year.
The cooperation with the government and institutions is solid, as it is the one with chambers of commerce. There is also an association of three chambers (Switzerland, Austria, Germany) that organizes a high-level conference every year with the participation of the highest officials in Croatia. As chambers we look for and propose certain requirements and our view of how certain problems can be solved. The three chambers work together on improving the cooperation. One of the programmes that we implement with the Ministry of Regional Development is the Swiss Enlargement Contribution which enables us to realize all planned projects. This project has generated many results, particularly in the segment of environment and nature protection.