SLO CRO Business Club organized a presentation of the Orbico Adriatic Wines project on Wednesday, March 9, 2022, at the Sheraton Hotel in Zagreb. The presentation of the project followed the assembly of members of the SLO CRO Business Club, which this year marks its 20th anniversary.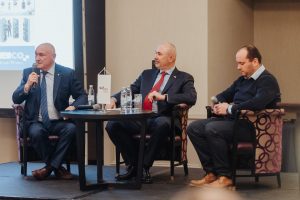 Foto : Samir C. Kovačević
The president of the SLO CRO business club, Dr. Saša Muminović, talked to the president of Orbico, Branko Roglić, who explained how he came up with the idea and what motivated him the most. Namely, Branko Roglić is the owner of a vineyard on Pelješac, where he cultivates a little less than 20,000 vines of the Plavac mali variety. Roglić believes that Slovenia, Croatia and Bosnia and Herzegovina have exceptionally high-quality, top-quality wines, which he has long been convinced should be placed on the wider European market. He mentioned the idea to Slovenian winemaker Vlado Mastnak, who agreed that the idea is great and Orbico the best choice for a distributor, as it operates in all European countries and enjoys a reputation and reliability among suppliers and customers – thus creating the Orbico Adriatic Wines project!
Tomaž Bakšič from Orbico Slovenia, who is the operational manager of the project, also joined the conversation. He explained the course of the project and said that Orbico Adriatic Wines combines wines from 36 wine cellars and a selection of 450 wines from Slovenia, Croatia and Bosnia and Herzegovina. The wines are being sold in Poland, the Czech Republic, Slovenia, the Netherlands and Germany, and they are planned to enter other countries where Orbico is present. Four wine cellars were presented at the event: Krauthaker, Badel, Vinakoper and Vina Mastnak, Tomaž Bakšič described each one individually and their offer.