Launched in 1909, Chivas Regal is the world's first luxury whisky and is considered to be a timeless classic, renowned for style, substance and exclusivity.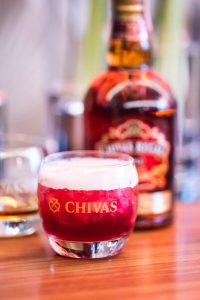 This story begins in 1836 with two brothers named James and John Chivas. The brothers were two of fourteen children born to Robert & Christian Chivas, living on the remote Strathythan farm in the Ellon Parish of Aberdeenshire. At 26 and 22 years old respectively, James and his younger brother John decided it was time to follow their dreams and leave farm life in search of bigger and better opportunities. They left the small crowded Strathythan farm in search of the bright 'northern' lights of Old Aberdeen.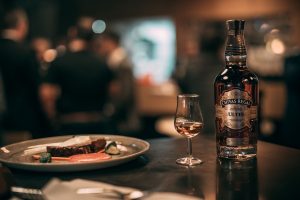 At this time there were no train-lines or stage-coach routes across Aberdeenshire, so the young brothers trekked for several days across 20 miles of Scottish countryside to the Granite City. Aberdeen at this time was a city typifying the period of industrial revolution, booming with new people, industries, exotic goods and most importantly new ideas. One of these new ideas was the blending of grain and malt whisky, referred to today as Blended Whisky. Blended Whisky is defined by the Scottish Whisky Association as, 'A blend of one or more Single Malt Scotch Whiskies with one or more Single Grain Scotch Whiskies.' The core concept of blending is to create something better than the sum of its parts by harmonizing the complex flavors of the malt and grain whisky, bringing them together and creating a new and superior character.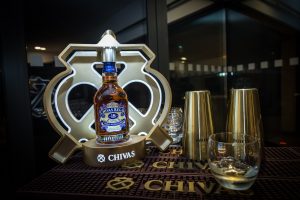 Arriving in Aberdeen, John began working at a wholesale firm while his older brother James worked in a grocery store, where he later partnered with a gentleman named Charles Stewart. This was no ordinary store however – established in 1801 it soon gained a reputation of supplying the finest goods, provisions and highest quality whisky to the gentry of Scotland. If you wanted real craftsmanship and goods of the highest quality, this was your one stop shop. This recognition of the reputation and quality of the business soon extended from the gentry of Scotland to Queen Victoria herself, who awarded James and Charles the first of many royal warrants to supply goods and provisions to her royal summer home, Balmoral Castle.
Since joining the Aberdeen grocery store James had learned and mastered the craft of tea blending. The skills James learnt during this time, coupled with his years of training both his nose and pallet, provided him with superior skill in the blending of whiskies. Now inspired by his royal patronage, James Chivas began pioneering the art of blending whiskies, using the many ageing casks laid down in the shops cellars. He created what we consider today to be the Chivas house style – blending whiskies in a style encompassing smoothness, richness and harmony of flavour. Charles Stewart left the partnership in 1857 and soon after John joined his brother James at the shop, forming the Chivas Brothers family business. Two years later 'The 1860 Spirits Act' permitted the blending of whiskies in warehouses. This confirmed both the Art of Blending as an established technique and Blended Whisky as a category of whisky in its own right. As a result, the demand for Chivas Brothers' smooth, rich and harmonious style whisky boomed.
When James Chivas died in 1886 the store was passed to his son Alexander Chivas (John having also passed in 1862) who continued to expand the business, assisted by his good friend Alexander Smith. Following the death of Alexander Chivas in 1893, Chivas Brothers was then taken over by Alexander Smith and its new Master Blender Charles Howard.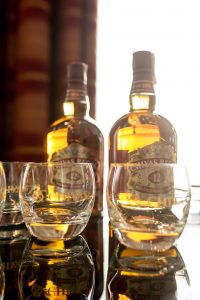 By 1909, Chivas Brothers had developed a wide reputation for producing luxury goods, which they shipped around the world. The Chivas Brothers had extensive knowledge and expertise on the aging and blending of whiskies and built up extensive stocks of maturing whisky. Following several successful releases across the globe Charles Howard, Chivas Brothers' Master Blender at the time, wanted to create a new blend that payed tribute to the legacy of the founding brothers, James and John.
Using the name Chivas Regal, Charles created what he believed to be the finest whisky ever made, releasing a 25 year old whisky in 1909. This met the regulatory requirements for bottling and labeling, a feat that hadn't been accomplished by any other companies or brands at the time, establishing it as the world's first luxury whisky. The Chivas house style has been passed down by generations of Master Blenders, and is still carefully guarded today by Colin Scott, Chivas Regal's fifth Master Blender.
In October 2014, Chivas Regal announced the addition of a fifth permanent expression in the Chivas Regal family, Chivas Regal Extra, sitting within the super-premium range, positioned between Chivas 12 and Chivas 18. In February 2016, Colin Scott presented Chivas Regal The Icon (RRP: 3.000 EUR), a perfectly balanced expression that showcases the depth and complexity of his craftsmanship and knowledge, echoing the pioneering James and John Chivas. Chivas Regal The Icon is an ultra prestige blended whisky created with a blend of some of the rarest and oldest whiskies available to Chivas Regal, some from distilleries now lost forever.
As you can see from the Chivas Regal story, for over 170 years brotherhood, generosity, entrepreneurship, and integrity have – and continue to be – at heart of Chivas Regal.
Sláinte (Cheers)!