The Swiss Embassy in cooperation with the aMore festival opened the famous exhibition "OUT TO SEA" for the first time in Zagreb. 
It is a mutual project between the aMORE festival, which was established last year in Poreč and is completely dedicated to the sea and its protection, and the Swiss Embassy in Zagreb. The Studentski centar and the City of Zagreb are its main partners. The exhibition is set up at the French Pavilion of the Student Center in Zagreb and will last until June 10th.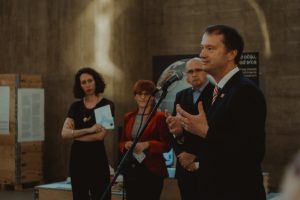 The visitors at the opening of the exhibition were first greeted by a huge pile of sea waste in the center of the beautifully designed French Pavilion designed to raise the awareness that that was actually the exact amount of plastic garbage that ends up at sea every thirty seconds.
Plastic in the sea is a rapidly growing problem, especially considering the fact that almost every piece of plastic ever produced in the world still exists and that every minute one full plastic truck ends in the sea.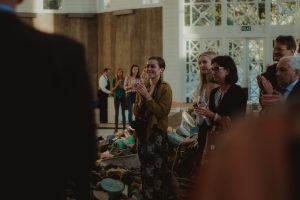 "I believe that Adriatic to Croatia means the same thing as Switzerland for the Alps: they are part of our identities. Our countries share the responsibility and the duty to keep this heritage intact and to preserve it for future generations ", emphasized the Ambassador of Switzerland, H.E. Stefan Estermann, in his opening speech. "In order to preserve what is valuable to us, what we love, and what we use as a resource in fisheries, tourism, sea ​​transport, it is necessary to constantly work on raising awareness, information and education as well as on the dialogue and cooperation of all of us who have a role in the life cycle of plastic", he said.
The exhibition is a project of the Museum für Gestaltung in Zurich and has been shown in more than 25 big cities around the world and attracted over half a million visitors so far. It illustrates the background of the problem and its fatal consequences for the sea, animals and people. "It also describes possible ways in which we can avoid or at least reduce waste in the seas, "emphasizes Roman Aebersold, the representative of the Museum für Gestaltung in Zurich, who came to the opening in Zagreb.
The aMore festival joined the exhibition "Out to Sea?" with a series of related events, workshops, lectures, dialogues, film projections and quizzes on seal pollution in the Student Tree of Knowledge center (SC) in Zagreb. The program in Zagreb ends with the screening of the movie "Plastic Ocean" in Europa cinema on June 10th.
The aMore festival then continues in Porec until the end of July and is the beginning of a wider initiative called the Adriatic Plastic Challenge, launched by the Terra Hub association in Zagreb with the aim of joining stakeholders, experts, researchers and innovators in a collaborative platform with the goal of finding innovative solutions.