Poetry and belletristic, excellent movies or a new look at the Bauhaus heritage, you name it… The Goethe-Institut in Croatia is ready for this autumn season. Excellent language classes for all levels are a plus.
Another exciting autumn is waiting for the admirers of German culture through the offer of the Goethe-Institut in Croatia. "We are expecting some true highlights in our cultural programme – starting with some high-profile authors from Germany at the World Literature Festival in September", says Dr. Matthias Müller-Wieferig, director of the Goethe-Institute in Croatia.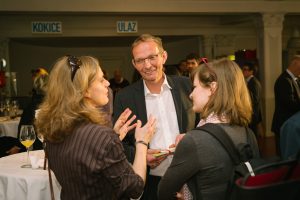 "Jan Wagner, one of our bestselling authors (for poetry, would you believe it – but you have to read his wonderful lines!) will come and present lyrikline, an online poetry portal for German language authors that has been active for 20 years. Furthermore, 30 years after the fall of the wall in 1989, he will discuss whether we are once again erecting walls", says our interlocutor. Wagner is one of the three German Book Award winners of recent years to visit Zagreb and other Croatian towns this autumn. He will be joined by Wolfram Eilenberger,
whose bestselling book Die Zeit der Zauberer will be translated into Croatian and presented at the festival, while the third one, Jenny Erpenbeck, raises questions about immigration and inclusion in the heart of Berlin in her latest
novel. "Croatian publishers like Fraktura or Naklade Ljevak are very much aware of German language authors and their most important contemporary topics", says Müller-Wieferig.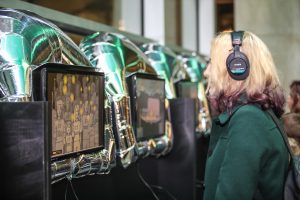 In September, we will have an exciting opportunity to deliberate on Bauhaus & Croatia. What should we expect?
— When it comes to Bauhaus 1919-2019, few people in Germany and Croatia realise the role women played in shaping the revolutionary approaches of Bauhaus alongside world-renowned names such as Walter Gropius, Oskar
Schlemmer or Paul Klee. Hence, the focus of Goethe-Institut for this entire year has been women in Bauhaus – discovering exciting regional connections between artists and experts in Croatia. Between 1919 and the Nazi dissolution of
the school in 1933, it was women, too, who were educated in Dessau and Weimar and helped shaping new forms and methods in art, industrial materials and radical new ways of architecture and design. In new textile design and weaving, it was Otti Berger from Croatia, who studied first in Vienna and
Zagreb before going to Dessau to study with the big names of Bauhaus. She was considered "one of the most talented students at the weaving workshop of Bauhaus", allowing her to become a core member of experimental approaches at Bauhaus, as she developed plastic textiles intended for mass production Next, her promising international career took her to New York. Tragically, Otti Berger's life ended in Auschwitz. The cover of our autumn programme booklet depicts Zagreb- born Ivana Tomljenović. Having studied in Zagreb and Vienna,
she left for the exciting new Bauhaus ideas in 1929. Focussing on poster and photo design, she played an important role in artistic innovation and political emancipation. In Rijeka, we will present BAUHAUS IMAGINISTA, an exhibition on the global importance and connections of Bauhaus. The exhibition at Kortil Gallery will also include films – documentary and artistic – in the programme of Rijeka History Film Festival. A round table talk, hosted by the
gallery's curator Jolanda Todorović, will invite its participants to discuss not only Bauhaus and modern architecture between the world wars, but also contemporary changes and new challenges of architecture and urbanism, and
perhaps a "new Bauhaus for the future". This discussion will include Croatian experts Antonija Mlikota from University of Zadar, who is writing a book on Otti Berge, Karin Šerman, professor of architecture at the University of Zagreb, and
Luka Skansi, architect and professor at the Universities of Rijeka, Belgrade, Venice and Ljubljana. They will be joined by a number of guests from Germany, including film makers and journalists.

How is Goethe-Institut contributing to Rijeka 2020?
— Our Rijeka 2020-programme will reflect on some of the following challenges: how to shape the future of the city, how to include citizens' participation, how to act locally on challenges like climate change, city quarter rejuvenation with cultural and social activities. Goethe-Institut and Rijeka 2020 agreed on inviting international experts in order to connect them with the local municipality of Skolic. A first public presentation end of September this year will give a first glance of how our Berlin partners City Tool Box, together with local partners and NGOs in Rijeka 2020 will be proposing, discussing and producing artistic and experimental methods of developing the neglected Skolic Area for making it more inclusive, robust and futuristic.
Tell us more about the LEIPZIG Connection – HDLU, which awaits us in October?
— The Leipzig connection is a very contemporary one: while Croatian artists currently enjoying residencies in Leipzig, the 50 works to be exhibited at HDLU will comprise the most famous works from the 90s generation of greats such as Neo Rauch and others just as much as the younger, striving artists of today. As East German artistic education, style, and topics helped form a very solid foundation to a new art practice, the Leipzig School is enjoying growing popularity. In the meantime, this has allowed for artistic perspectives, development and lifestyle to outrun even what we know from Berlin. So, next to the very vivid music (Bach!) and film (Leipzig Documentary Film Festival), the visual arts from Leipzig will come to Zagreb in full force!
Which movies would you recommend from the Berlinale Special?
— The Berlinale Special, which was introduced to Zagreb, Split, and Rijeka last year, will again focus on full-length feature films. A selection of films – ranging from genres like comedy and historical to social drama, sourced from the most recent Berlinale International Film Festival – will be showcased. Walter Ruttmann's classic silent movie Berlin – Symphony of a City (DE: Berlin – Die Symphonie einer Großstadt/ HRV: Berlin, simfonija velegrada) will be the special opening film, with the music band CHUI from Zagreb premiering their live music written for this occasion. The closing film is to be Never Look Away (DE: Werk ohne Autor/ HRV: Djelo bez autora) by Oscar-winning Florian von Henckel-Donnersmarck, daring a look into Nazi history and their euthanasia programme while investigating the power of art in post-war Germany. The film, which once again is nominated for an Oscar (Best Foreign Film), is loosely based on Gerhard Richter´s biography, who – along with Joseph Beuys and others from the Dusseldorf Art Academy – is part of one of the greatest generations of German artists. New social drama has been a Berlinale surprise, especially the debut film System Breaker (DE: Systemsprenger/ HRV: Razbijačica sustava), about a child radically breaking all social rules, and Only a Woman (DE: Nur eine Frau/ HRV: Obična žena), which is based on a ritual murder of a young German-Turkish woman in Berlin. Both films were written and directed by German female film authors. Another favourite is the bio-pic GUNDERMANN by Andreas Dresen: a GDR-biography of a real working-class hero, who wasn't that heroic after all regarding his entanglement with the GDR's malicious system of surveillance. The film has won 6 German Film Awards this year.
How popular is the German language in Croatia and why? What courses and certificates do you offer? What makes Goethe-Institute language classes special?
— German speaking countries are actively encouraging professionals, especially in medical and engineering professions, to make use of European mobility options. Demographic statistics show that there is an ongoing brain drain, especially amongst the youngest, most active and most mobile. Of course, the language is a very important prerequisite for many who decide to immigrate to a German speaking country. However, we aim at brain gain instead of brain drain by implementing dialogue- and education-based programmes. Furthermore, we are looking to optimally employ the benefits of European mobility – meaning not only emigration but also later remigration of scientific, artistic and creative exchange of knowledge acquired abroad. Next to that, German employers and investors are looking for employees in Croatia who speak German. As a result, Goethe-Institut offers not only courses for the youth but also subject-specific courses and examinations on all levels. The earned certifications are accepted as valid proof of language proficiency around the globe. The innovative, communicative, hands-on, and media-supported  language programme is transparent and the same world-wide – the curriculum as well as the goals of the course are formed based on the Common European Framework of Reference for Languages (CEFR). According to the latest inquiry of the German Ministry of Foreign Affairs, the German language is very popular in Croatia with every third individual either studying or capable of speaking it. Now, an online portal facilitates webbased language courses especially in the coastal regions of Croatia. In support of schools across the country, amongst which there are eight German partner-schools supported by the Goethe-Institut, we follow up on innovative Croatian concepts such as the digital strategy of the Ministry of Education. This strategy forms the new basis of digital foreign language courses offered by Goethe-Institut and for MINT offers to teachers of the country.
How has digitalisation changed the library services and the way
you communicate with the readers?
— Nowadays, print media are still crucial for our customers, but digital media
are even more important for international knowledge exchange. Our library and digital services have responded with our Onleihe-programme, where different media such as books, newspapers and magazines can be borrowed online, complementing our print and audio-visual media in the library. Nonetheless, our library is a place of interaction, knowledge exchange, and creativity. In formats like Lernwerkstatt, study and exchange workshops combine open access to digital media and information resources with face-to-face communication. Media literacy is another issue in which we cooperate with local professionals for a better qualification and exchange of expertise between librarians from Germany and Croatia. Since ethical principles, copyright issues, and data protection standards are part of the new challenges in digital communication and information, our liaison work in information and digital services is based on digital ethics. We invite students to our library Lernwerkstatt just as much as the national Associations of Librarians, NGOs and other institutions. We are open for a critical reflection on the new potential as well as the challenges of digitalization.