The premiere of Downton Abbey took place at Kaptol Boutique Cinema on Monday 16.09. The premiere was supported by the British Embassy in Zagreb.
The jazz band Jazzbusters took care of the atmosphere of the 1920s, when the movie was taking place, and there was also a lack of fashion details characteristic of those years.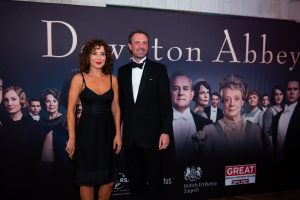 Downton Abbey is a remarkable example of the UK creative industry which has produced some of the most famous and influential television and film works. Today, the success of the UK creative industry is recognized globally – everyone in the UK knows UK bestsellers, from Bond or Harry Potter films to series like Fools, Dr Who and, of course, Downton Abbey – and the sector also employs a large number of talented people. and contributes to the UK economy through its successes.
Downton Abbey reveals some of the beautiful, and perhaps many unknown parts of the UK, which can be a good incentive to visit Britain. In addition to unique London, natural pearls and cultural wealth can be found throughout England, Scotland, Wales and Northern Ireland, with as many as 32 sites protected by UNESCO.