Study of earthquake in Petrinja as a contribution to future seismic safety was presented in hotel Esplanade in Zagreb on Tuesday June 29th in the business gathering organized by SLO CRO Business Club. The guests were greeted by dr. Saša Muminović, president of the SLO CRO Business Club of Slovenian and Croatian Businessmen. The event was attended by the Minister of Construction and State Property of the Republic of Croatia Darko Horvat.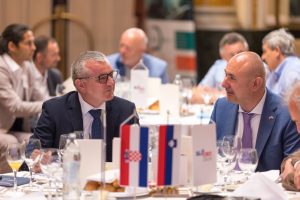 Minister Darko Horvat  emphasized the importance of cooperation and communication between academic community, entrepreneurs and public institution for the purpose of better implementation of all projects.
Experts form Geological Survey of Slovenia (GeoZS) led by director dr. Miloš Bavec and experts from Croatian Geological Survey (HGI) led by director dr. Slobodan Miko gave a lecture on the subject of "Study of earthquake in Petrinja as a contribution to future seismic safety".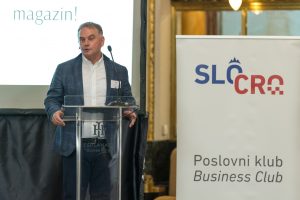 Director of the Croatian Geological Survey Dr. Slobodan Miko
Immediately after the earthquake in Petrinja, Geological Survey of Slovenia joined the international project involving geologists from Italy, France and Croatia. Due to the difficult availability of the seismic area, primarily the area of limited movement due to the danger of mines, experts from the Croatian Geological Survey were joined by geologists from the Geological Survey of Slovenia and surveyed the area with spatial laser scanning technology called Lidar. Lidar is an acronym from Light Detection and Ranging and the scanning detects very precise changes on the earth's surface. It is important to emphasize that the project was demanding and expensive so SLO CRO Business Club financially supported the project.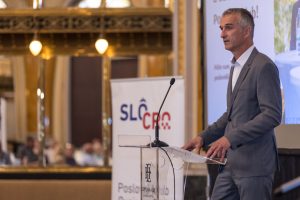 Director of the Geological Survey of Slovenia Dr. Miloš Bavec
Cooperation and nurturing business relations and mutual support promoted by the SLO CRO Club in this project confirmed the importance of mutual cooperation and support in the academic and business community as well as public services.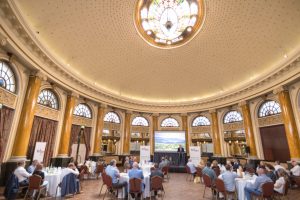 SLO CRO Business Club way founded in 2002 as a non-profit association with the intention of organizing and strengthening economic relations between the Republic of Slovenia and the Republic of Croatia. Promoting Slovenian-Croatia cooperation in all aspects of economic and social life by developing business relations is the mail goal of the club, which brings together more and more members who recognize the benefits that membership provides.