The past year was one of the most challenging in Croatian history because it was this government that had to pay all of the debts from the past. We took on this responsibility readily and I can say that I am more than satisfied, regardless of the challenges that await us in 2019, says Darko Horvat, Minister of Economy, Entrepreneurship and Crafts for Diplomacy&Commerce magazine.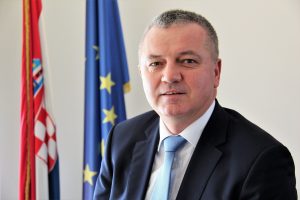 "Regardless of everything that this government and myself, as a minister, inherited at the beginning of our term in the office, I can confidently say that I am more than satisfied with our results in 2018, although some things can and must be better which is something we are working hard on," says Darko Horvat, Minister of Economy, Entrepreneurship and Crafts. "I am primarily referring to the overall situation in the shipbuilding industry and the Uljanik shipyard, which problems have been piling up and pushed under the carpet for years. Now that the situation has become unbearable, we need a solution that will create a framework for sustainable shipbuilding, bring people back to work and do something that has the least impact on the state budget and taxpayers' money," the Minister adds.
Minister Horvat is still optimistic about this issue due to the good cooperation with the current management and trade union of Uljanik. Other positive results that the Minister highlights are finalizing the restructuring process in Agrokor without having to lay off any workers, or the state budget suffering for it. "In such dynamic circumstances, it is very difficult to give priority to topics that are actually much more important for us, that is projects and measures that we have launched with the aim of bolstering small businesses and craftsmanship", the Minister says.
Do you think that 2019 will be as equally turbulent as 2018, considering the situation with Uljanik, INA and the looming financial crisis?
The year behind us was certainly one of the most challenging in Croatian history. All the debts of the past had to be settled by this government. We did not want to use any excuses but have readily assumed the responsibility and bravely accepted the big job that was ahead of us. In addition to the bigger problem areas such as Agrokor, Uljanik and Petrokemija, there was also the restructuring of the Djuro Djakovic Company and saving the Borovo Company which both somehow managed to stay under the radar. In Borovo, we created all the prerequisites needed for the company's management to find a quality strategic partner. Most of these large companies today have a bright future, well-organized business, and stable financial balance. Furthermore, the Republic of Croatia ended the second consecutive fiscal year with a surplus, with the external debt also declining.
At the end of the third quarter, Croatia's public debt stood at 281.8 billion kunas which means that its share in the GDP fell to 74.5%, i.e. it has been reduced by 1.6% relative to the previous quarter and by 4% relative to the same period the year before that. According to these results, Croatia is one of the EU countries with the highest recorded decline in public debt's share in the national GDP. In short, we have managed to bring down our external indebtedness to its lowest level since 2008, while at the same time, major global financial agencies are increasing our country's credit rating, or at least giving us a positive forecast. I am confident that the restructuring process in Uljanik will also be completed to the benefit of all involved parties, with the smallest exposure and participation of the state budget or taxpayers' money. We did everything in our power for Uljanik's employees. We have helped the shipyard to survive last year and now it is up to a new strategic partner, selected by the company's Managing and Supervisory Board, to demonstrate their seriousness and readiness to participate equally in devising a new restructuring plan. Various figures are being publicly discussed at the moment, but the only relevant thing is the content of the plan. I can assure you that the government will act with a strong caution in this process.
2. The announced administrative disburdening of the business sector began last year. What can business people expect in regard to this?
At the initiative of the Ministry of Economy, Entrepreneurship and Craftsmanship, the first decision that the Croatian government made in 2019 was to adopt the Action Plan for Administrative Disburdening of Business Sector. This is a continuation of the policy which we have been implementing for the third consecutive year. This year alone, due to the government's measures, the real business sector will save 626 million kunas. In total, in the period from 2017 to date, the savings have amounted to close to 2.5 billion kunas. We have bravely stepped in into this ocean of regulation that entrepreneurs have to deal with on a daily business. This year, we identified 314 measures and processes that will be either abolished or reduced. We have already started preparing for adoption of the Action Plan for the year 2020, and in this segment, I would like to point out that we are actively communicating and consulting with entrepreneurs themselves, and that we are determining further steps in a dialogue with them. We also regularly carry out cost and benefit analyses. It is worth mentioning that we are conducting the so-called SME test (the small and medium-sized enterprise test), which puts a stop to new imposts. Otherwise, all the aforementioned efforts would not make any sense.
3. You are an expert when it comes to small and medium-sized enterprises. How did they manage to get back on track and recover after the financial crisis and recession in Croatia?
There is a good reason why small and medium-sized enterprises are deemed the most resilient part of the economy. Since most of the companies in Croatia are SMEs, it is extremely important for us to build up this sector, while, at the same time, highlighting good business practices that are many. I, myself, come from an area where craftsmanship and entrepreneurship have a long tradition. In that respect, Medjimurje is a diligent and well-organized county with a strong entrepreneurial mentality which I am eager to incorporate into all the nooks and crannies of the Ministry that I helm, and then into the rest of Croatia.
4. The IMF has recently released its forecast which warns about a slowdown in the global economy, especially in Europe. What are your hopes for 2019?
The economic growth projection, following the forecast released by the IMF last month, is in line with our Government's expectations since we are talking about a growth of between 2.6% and 2.9%. However, a more important thing is that this growth is stable for now and that we are actively working on creating prerequisites for its further boost. In the surroundings which, even under global terms, is showing the signs of economic slowdown and in some cases, even an indication of a new financial crisis, I think that the mentioned growth rate is solid and realistic. Of course, as the economy minister, I am especially interested in the industrial production growth which is, for the most part, conditioned by the current situation in shipbuilding, which is why I hope that, in 2019, we can make a bigger step forward in this area. What I'm happy about is the second part of the IMF's outlook, which states that reducing external debt is one of the possible solutions to avoiding a potential crisis. As I mentioned earlier, Croatia has achieved remarkably good results in this segment in recent years.
5. You have also announced the year of digital transformation. How can the Croatian government assist with this transformation which, as far as we can see, is much different from the previous industrial revolution?
The START project, which we plan to launch in April, will ensure that businesses in Croatia can be set up in just two to three days by filling out a single digital form. The issuance and receipt of an e-Invoices will become mandatory as of July 1st this year. We are announcing all of this now so that users will have enough time to prepare and adapt. There is no alternative to this process because the same thing is being done in the neighbouring countries with which we share the single EU market. Numerous indicators show that we are on a good path regarding future positioning of ourselves in terms of the implementation of artificial intelligence. People don't know that Ericsson has chosen Croatia or rather, its Ericsson Nikola Tesla Company to develop and test 5G technology. These are the systems that are used in self-driving vehicles. The State Aid for Development and Research Projects Act further encourages the development of the ICT sector and other concomitant fields. We have extremely powerful human capital, and our engineers are well-educated and in demand. Entrepreneurs, who work and do business here, export most of their software products, and the demand for IT staff increases year-on-year. The government will continue to encourage research and innovation projects and initiatives through various regulations, while digitization will be embedded in the work of public administration.
6. How many companies are there in Croatia today that have already jumped or about to jump on the "Industry 4.0. train"?
For the time being, only larger companies have the capacity to follow the trends brought on by the 4th Industrial Revolution. For example, Ericsson Nikola Tesla, which I've mentioned earlier, has opened its development&research centre in Osijek and has become the hub of digital industry development in this part of Europe. Atlantic Group has digitized numerous sales tracking processes, inventory, customer experience and so on. Furthermore, Microsoft has major plans in Croatia. We are right behind them in this while encouraging them to participate in various competitions which goal is digital transformation and networking with the highly developed countries in this field.
7. What projects and plans are the Ministry's priorities and how will they affect doing business and business environment?
I have already announced that I want my term in the office to be remembered by four things – industry, innovation, investments and export. To this end, we have launched thematic innovation councils, which are specialized bodies within the National Innovation Council, through which we are creating the Croatian innovation system. These are working groups where business people and academics collaborate with ministry officials and discuss what needs to be done to improve innovation processes. I consider innovations to be the key to higher industrial development and export. In regard to investments, we are currently compiling lists of the most desirable investors we want to see investing in Croatia. We are going to use new EU funds to especially stimulate innovations, particularly those that lead to new products that will find their place in the future digital society.