Croatia and Finland have much in common and excellent bilateral relations. We are both relatively small in population and face similar challenges, nature-related
included. Therefore, cooperation in the field of environmental protection, waste
management and energy is in our focus.
A key priority of Finland's Presidency over the EU, which started on July 1st, is the EU's global leadership in climate action. Finland has been a member of the
European Union since 1995 and has already held the Presidency twice, in 1999 and 2006. We spoke with H.E. Risto Piipponen, Finland's Ambassador to Croatia, about the goals of the third presidency and the future of the European project after the May elections.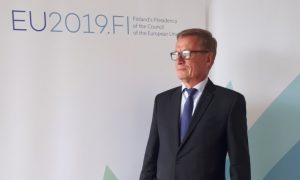 "The slogan for our Presidency is: "Sustainable Europe – Sustainable Future". The future needs to be socially, economically and ecologically sustainable. Our key priority is the EU's global leadership in climate action which means committing to climate neutrality by 2050," says Mr. Piipponen and adds: "Our aim is for the European Council to reach an agreement on the main elements of this plan by the end of 2019. As Prime Minister Antti Rinne has stated, the time for "yes, but" policies for combating climate change is over. To demonstrate this, Finland has set an even more ambitious target for herself – climate neutrality by ensure, more efficiently, respect for our common values in the Member States. We also need to continue negotiations on how to tie the access to EU funds with compliance to the rule of law."
1. How do you contribute to sustainability through your own actions?
Sustainability is a cross-cutting theme for the meetings. For instance, we are committed to producing very little physical material for the presidency. We use digital applications and innovations instead of paper and plastic. For meetings in Finland, Finland wants to see itself as an equal, future-oriented country. We are "breaking the rules" and traditions a bit by not handing out traditional presidency gifts such as ties, scarves, writing pads and pens. Instead, the money earmarked for gifts is used to offset greenhouse gas emissions from flights to the presidency meetings in Helsinki and Brussels. The emissions will be offset by financing projects that reduce atmospheric emissions. Through these examples we are keen to show that a successful presidency can be achieved by ecologically
sustainable means.
2. How has the outcome of the recent EU elections affected your presidency agenda?
During the EU election campaign a lot of attention was paid to climate change and other environmental issues. In this regard, it is not surprising that Finland wants to advance the EU's position as a global climate leader. The effects of climate change can be felt in Northern Europe, even more than the rest of our continent. That is why our President Sauli Niinistö, who visited Croatia last year, has probably been the most vocal advocate for reducing black carbon emission as part of Finland's Arctic policy. As we had our parliamentary elections in April and the new Government was only formed a few weeks before the start of our presidency, our Presidency Program was prepared by the Finnish Parliament with the participation of all political parties. In this work, certain themes emerged strongly, and they are now an integral part of the program published on 26.6.2019. In addition to climate change and common European values, we underline security and inclusive economic growth. In order to protect the security of citizens comprehensively, it is important to strengthen the EU's internal and external security and its defence cooperation, including measures to counter hybrid threats. In order to build a competitive and socially inclusive EU, greater emphasis must be placed on research, development, innovation and digitalization.
3.What would be your main message to young EU members like Croatia? How does the EU now differ from the original concept and where is it heading?
The main objective of the EU remains the same as it was 70 years ago. The EU was created to bring lasting peace and stability to Europe. It is important to note
that this peace process has been expanded through enlargements. Enlargement policy is a strategic investment in the stability and development of Europe. This also applies to the Western Balkans, which is a region of high strategic value to the Union. Croatia can play an important role in bringing the countries of the region closer to the Union, the final objective being full membership. However,
one of the conditions for accession is good neighbourly relations between the countries. Croatia can take a role in searching for solutions to outstanding issues,
strengthening economic and political relations and creating closer cooperation between countries in the region. In this respect, Croatia could follow the example of the Nordic countries in the 1990s, when the Baltic States applied for EU membership. The Nordic countries provided them with strong support, which helped them join in 2004. The accession of the Baltic States proved to be beneficial, not only to them as countries, but also for the stability of the region. In
addition, it strengthened economic cooperation and in this respect increased the economic growth of the larger region. As proposed by the President of Finland, who visited Croatia in 2018, Croatia could take the same role in this region.
4.How ready is Croatia to perform the duties associated with the presidency? How well do you coordinate your actions?
Together, Romania, Finland and Croatia prepared an 18-month Trio Programme last year. We have had excellent cooperation with both Romanian and Croatian colleagues. Having seen the seriousness of the Croatian preparations, I am convinced that you will do extremely well. The training of Croatian civil servants is a good example. The former Croatian Ambassador to Finland, Mr. Krešimir Kopčić, has been in charge of preparing Croatian civil servants for the upcoming Presidency. So far, around 700 people have gone through different segments of
training on how to prepare and chair meetings efficiently, etc.
5.How would you assess the bilateral relations between Finland and Croatia? Which topics are you focusing on?
Croatia and Finland have much in common and excellent bilateral relations. Since we are both members of the EU, we have been able to bring our relations to a completely new level, benefitting both countries. We are both relatively small in population and face similar challenges. Nature, in particular forests and water, are important elements for both of us. Therefore, I find it quite natural to give more attention to cooperation in the field of environmental protection, waste management and energy. Our most important asset is human capital, meaning that well-educated people are the driving force of our societies. Small countries, like ours, may have the flexibility to create new solutions faster than bigger ones. We need to continue to embrace education, entrepreneurship, sustainable development and innovation in order to strengthen the existing networks. Croatia has become one of the favourite destinations for Finnish tourists. There are direct flights during the summer months and over 110 000 Finns visit Croatia annually. This, of course, has positive effects on business as well. I hope we will also see increasing numbers of Croatians visiting my country. Finland is not only the home country of Santa Claus, but it also has a lot to offer in terms of beautiful nature such our 190,000 clean lakes, world-famous design and architecture, good food, endless summer nights and, of course, friendly and welcoming people.
6. Many Croats are leaving their country and wanting to live in a welfare state like Finland and alike. What potential does Croatia have to build a strong economy and society which will be able to provide European standards to their citizens?
In my opinion, there is nothing wrong with spending some time outside your native country to widen perspectives and worldview. International cooperation is necessary today. I have learned that Croatian citizens do not leave the country
purely for economic reasons. Social factors seem to be significant as well: a perception of a brighter future elsewhere. Finland experienced difficult times in the early 1990s. To overcome the crisis, the main emphasis was placed on structural elements: investment in R&D, radical tax reforms, increasing productivity in the public sector. The sense of justice, equality and social integrity were crucial for overcoming difficulties. Equal access to quality education, then again, is a precondition for equal opportunity. When citizens' trust in the
quality and effectiveness of institutions, it makes the future more predictable. Croatia is on the right path in reforming, for instance, its educational system and the public sector. A key factor in the reforms is digitalization, which increases
transparency and efficiency. The government has also invested in the integrity of the public sector through educational initiatives and programs. Finland has had the opportunity to support these initiatives through intense Twinning cooperation with Croatia. We have a lot to learn from each other, so we are ready to continue our good cooperation and share experiences in different fields of life.