To meet the new tourist season, the leading airlines flying to Croatia are making plans and increasing the number of flights.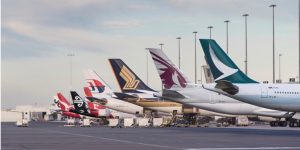 Ryanair has added its 12th new route and 34th total to Zadar for the summer season.
Namely, Ryanair will connect Budapest with Zadar twice per week, on Thursdays and Sundays, from July 2 until September 27, 2020. The Boeing 737-800 aircraft will operate on this route.
Recall, Lauda, which is Ryanair's subsidiary, will base three aircraft at Zadar Airport in the summer. Around 672,000 passengers are expected to use Ryanair to fly to and from Zadar in 2020.
Recall, Zadar Airport, also expects over one million in 2020.
"Having welcomed 800,000 travelers in 2019 is a big achievement for us. It is a milestone. However, new records will be broken in 2020," said Zadar Airport General Manager, Josip Klišmanić. "During our first fifty years of operations, we handled under a million passengers annually. This will no longer be the case in 2020," he added. In 2019, Zadar Airport handled 801,347 passengers, which is an additional 197,308 compared to 2018.
Zadar Airport will thus become the fourth airport in the country to welcome one million passengers in a single year, after Zagreb, Split and Dubrovnik.
Furthermore, Avio Radar reports that SkyTeam member and French national carrier Air France has announced that it is boosting operations to Dubrovnik and Split.
The Paris (Rossy-Charles de Gaulle Airport)-Dubrovnik route will operate daily in 2020. Namely, the line will begin operating on March 29, a week earlier than last year. At the same time, during the preseason, it will work twice a week, on Saturdays and Sundays, or one flight a week more than last year.
During the heart of the season, Dubrovnik and Paris will be connected by seven flights per week instead of the five routes last year. The Airbus A318, A319, and A320 will run on this line.
The Paris (Rossy-Charles de Gaulle Airport)-Split line will run six flights per week, or every day but Saturday. This is twice as many flights as last year when the two cities were connected by Air France three times per week. The smaller Embraer ERJ-190 will fly on this line. Last year, the Airbus A319 aircraft flew on this route.
Source: Ex Yu Aviation and Avio Radar