Dogus Group, a Turkish company that is continuing the process of selling off its assets as part of its restructuring to get out of the financial issues that were caused by a significant drop in the Turkish lira, explained the move in detail. In Croatia, D-Marin employs almost 200 people, and they are currently in the process of recruiting for the new season.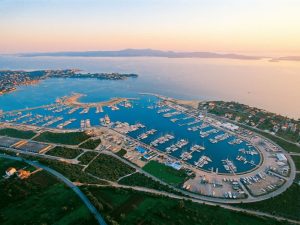 Although Dogus Group said midway through last year that their property sale process would not cover their portfolio in Croatia, they clearly found a good buyer, and CVC VII's CVC Capital Partners fully acquired all three Croatian marinas from D-Marin, Borik, Dalmatia and Mandalina. With the acquisition of the D-Marin brand, in addition to the Croatian Dogus portfolio, a marina in Greece and the UAE was also "settled", but the transaction price hasn't been mentioned.
"Croatia's D-Marin marinas managed another successful year with revenue of around 16 million euros, while other Dogus Group companies operating in Croatia have performed positively and are committed to further optimising their operations and focusing on the new 2020 tourist season. We can confirm that all of D-Marin's management and operations teams, as a successful marina owner and operator, will continue to fulfill their previous tasks," stated Dogus Group in a response to an inquiry on the matter.
They also pointed out that the contract does not include Dogus Group hotels in Croatia, D-Resort in Šibenik and Villa Dubrovnik, and they haven't commented on speculations that this part of the portfolio is for sale in Croatia. Additionally, the fate of their Maraska project in Zadar, which in addition to the first Croatian Hotel Hyatt was supposed to have a residential part to it, remains unknown. According to CVC, all marinas in Turkey (Turgutreis, Didim and Göcek) will remain owned by the Dogus Group as long as they are operated by D-Marin.
Founded back in 1981, CVC is a leading global venture and credit fund, managing assets totaling an enormous 80.5 billion US dollars through a global network of 24 local offices across Europe, America and the Asia Pacific region. Their headquarters are in Luxembourg, and in Croatia they operated through ownership in Zagreb Brewery (Pivovara) from 2009 to 2012, and as they say on their website, they currently have no assets in Croatia.
In Croatia, D-Marin employs almost 200 people, and they are currently in the process of recruiting for the new season. It is well known that Turkish investors entered Croatia by buying the Mandalina marina, which later built the D-Resort. Mandalina was the first Croatian marina with a five anchor categorisation and the first marina designed for mega yachts. Back in 2012, they bought the Dalmatia and Borik marinas from Zdenko Zrilić and became the owners, with eleven percent, of the ACI marina chain.