Valamar Riviera has signed an agreement with the Trade Union of Tourism and Services of Croatia and the Trade Union of Istria, Kvarner and Dalmatia, providing Valamar employees with new benefits, including the 13th salary in the net amount of 5,000 kuna. Valamar will pay the 13th salary to all permanent employees and all workers who will work for the company for at least ten months in 2019. The 13th salary will be paid by December 2019.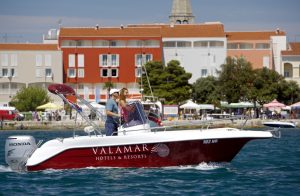 Valamar has also granted its employees a minimum net salary of 5,000 kuna for all employees who perform the full monthly numbers of hours. As for seasonal workers, Valamar will pay a special bonus for the season between 1,200 and 2,000 kuna net, depending on the number of months worked, out of which 500 kuna net will be paid to all employees with the pay for the month of July. In addition to the guarantee of a minimum net salary of 5,000 kuna for all employees, the 13th salary and special bonuses during the season, Valamar will pay a Christmas bonus in the net amount of 2,000 kuna to all permanent employees in 2019.
Due to the benefits offered to its employees, Valamar is the only tourism company that has entered the list of Top 20 employers in Croatia and was rated as the best employer in tourism. Each year, Valamar creates between 300 and 500 full-time positions and offers excellent opportunities for career development, with a developed system of internal and external training.
The improved benefits for Valamar employees have been welcomed by social partners led by the Trade Union of Tourism and Services of Croatia and the Trade Union of Istria, Kvarner and Dalmatia. Eduard Andrić, the president of the Trade Union of Tourism, said: "Valamar continues to increase the wages from year to year, through the negotiations with the trade unions which is the only way to prevent the labour force from moving abroad, which has so far created a considerable shortage of workers in the tourism and hospitality industry."
Marina Cvitić, the president of Trade Union of Istria, Kvarner and Dalmatia, emphasised: "Valamar is one of the first tourism companies to recognise the problem of the lack of tourist workers and accordingly take action to ensure a sufficient number of seasonal workers, as well as to keep the full-time workers. Over the last three years, the salaries have risen by over 20% on average. The agreed payment of the total non-taxable amount of 7,500 kuna a year to most permanent employees and those who will work longer than ten months will mean an increase in annual income of up to 10%, so we do not doubt that these workers will be satisfied. This is how responsible employers behave towards workers who are the key to their success. I must also point out that the employer fosters social dialogue, while the continuous improvement of the position of both permanent and seasonal workers is a result of constructive dialogue and respect for the views of social partners. "
Source: Večernji list