Ten European cities have united in the RetaiLink project to revive their historical core by strengthening retail sales. They include Fermo (Italy), Pecs (Hungary), Bistrita (Romania), Liberec (Czech Republic), Hengelo and Hoogeveen (Netherlands), Basingstoke and Deane (United Kingdom), and Croatia's Šibenik.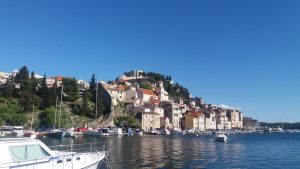 The city of Šibenik is primarily affected by the decline in retail sales, because, in addition to the common problems of small and medium-sized cities in the EU, they have additional issues of traffic, especially in the number of parking places in the city center, the lack of large sales spaces, expensive reconstruction of protected objects and the pressure to apartmentize the area, which takes up space and raises rent for traders.
An action plan that focuses on the cooperation of city administration and retailers, incentives for businesses in the old city core, encouraging traders to increase competences, reducing the seasonality effect, marketing activities to increase the attractiveness of the city center and measures to improve the accessibility of the city center, has been made.
The town of Šibenik has already defined some of the measures for facilitating business for entrepreneurs operating in the area of the old city core, and now, as part of the entire project, has the desire to revitalize the old city core through manifestations.