We welcome the deepening of bilateral relations, and we are interested in furthering partnership in the fields of trade, innovation, and sustainable development. Croatia has a lot of talent to offer in these segments; creating jobs for the future.
"Sweden wants to foster a strong spirit of cooperation between our two societies", this is how H.E. Mr. Lars Schmidt, the Swedish Ambassador to Croatia briefly explains the goals on his country in the cooperation with Croatia.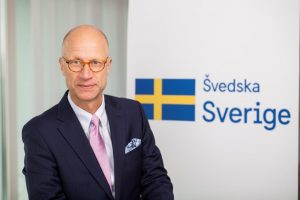 How would you rate the bilateral relations between Croatia and Sweden?
I have been living in Croatia for nearly five years, monitoring its transformation into a modern EU Member State, promoting modern values, diversity and reconciliation in a regional context.
I'm pleased to see Croatia out of recession and focused on structural reforms – fully utilizing EU Cohesion Funds and implementing recommendations from EU mechanisms for financial stability.
We already cooperate a lot, in many fields of interest. Around 50 Swedish companies operate in the Croatian market, employing over 6,000 people and having an annual turnover of around 500 million euro. The value of total Swedish investments in Croatia, since the beginning of the 1990's, is 700 million euro, just over 2% of all total foreign investments in Croatia.
Furthermore, around 300,000 Swedish tourists visit Croatia every year, and the well-integrated Croatian diaspora in Sweden, which numbers close to 30,000 people, contributes immensely to the excellent bilateral ties between our countries.
There were more mutual visits of the two countries' officials in the last year or so. What would you say was the most important outcome of these more frequent visits?
Croatian Ministers and Government representatives visit Sweden regularly and vice versa. H.M. Carl XVI Gustav visited Croatia 2013, and Sweden played host to H.E. President Kolinda Grabar-Kitarovic in 2017. They were both accompanied by strong business delegations.
However, recently we have had more visits than usual. During 2017, Sweden welcomed the Croatian Prime Minister, the Deputy Minister of Defence and the Minister of Foreign Affairs. From the Swedish side, the Speaker of the Parliament, Minister of Defence, Minister for Upper Secondary Education; Minister of Health and Social Affairs, and the State Secretary to the Minister for Enterprise and Innovation visited Croatia.
I am happy to see such an active interaction between our countries.
As the most important outcome I would mention the Swedish Business Club, which was initiated at the meeting between the Croatian President and the Swedish Prime Minister during the official visit in 2017.
Which areas are most appealing to the two countries in terms of cooperation?
We are interested in furthering partnership in the fields of trade, innovation, and sustainable development.
Our experience is that synergies generated by close connection between Swedish universities, research institutes, public sector and private sector leverage the R&D output and make us more competitive. We also see that international innovation collaboration is becoming increasingly important for a small and export-oriented economy such as Sweden's. This is why we are always putting effort in developing opportunities for international cooperation.
I would also like to mention the interest expressed by the Wallenberg Group in using Croatia as a hub for promoting excellence in software engineering. This project is supposed to engage Croatian stakeholders, including the Government, to further develop modern R&D and help with alleviating the brain drain.
How would you assess the security situation in the region and the cooperation between the two countries in the field of security?
Croatia and Sweden are EU member states. We both believe in continued EU enlargement as a prerequisite for regional stability. Croatia plays an important role in the region, being an EU Member State able to lead by example and share experiences.
Croatia's has modern infrastructure and thorough knowledge about South Eastern Europe. Hence, Sweden considers Croatia a key partner for cooperation in the field of security policy.
What can the countries in the region learn from the cooperation between the Nordic countries?
Nordic co-operation is one of the most extensive forms of regional co-operation anywhere in the world. It had been institutionalised since 1952, with the establishment of the Nordic Council. Its primary goal is to create the best possible conditions for people and business to move freely between the countries. Functionality, design and simplicity are markers of Nordic cohesion, parallel to our consensus-based philosophy, which constitutes a fundamental value in our societies.
In the Nordic countries, we aim to be fantastic neighbours to each other, and our tradition of cooperation has fostered a secure environment contributing to prosperity and economic development.
There are many Swedish companies operating in Croatia. Which segments have the greatest potential for bolstering economic cooperation?
Our economic cooperation is diverse, and we are keen to invest in many fields of modern technology, but we are especially interested in spurring the cooperation in the areas of research and development, where Sweden can provide an added value – e.g. digital transformation and sustainable solutions in a globalized economy, where operating within a functioning market economy is essential.
We are also interested in developing a cross-section between private sector, academia and the public sector, also called the Triple Helix model. Mostly because we understand that we, as a small country, need to collaborate with others to succeed and to develop competences – for the sake of the future, for attracting talent, and for supporting European competitiveness in the long run.
In this regard, I would like to mention a successful joint venture – Ericsson Nikola Tesla, which shows how cutting-edge development can be implemented in Croatia. Moreover, I have to mention the arrival of Tele2 in the Croatian market, which provided sound competition in the mobile communication market. There are many other examples – Ikea, Saab and Securitas have all seen potential in Croatian business and at the same time, proved that Sweden has a lot offer Croatia.
What are the cultural ties between the two countries like and how much does the diaspora contribute to better mutual understanding?
We have about 30,000 people of Croatian origin living in Sweden. They are usually people that have adapted very well to the Swedish society and they really combine the best of the two worlds. This helps a lot in terms of our countries better understanding each other, in cultural aspect and otherwise.
Swedes love nature. In terms of the attitude towards nature, what can the Croatians learn from the Swedish and vice versa?
We are outdoor people enjoying our unique habitat in the vast territories in the North where the EU's only indigenous people – the Sami – live. The Sami constitute a national minority in Sweden.
Would you believe it if we told you that 97 per cent of Sweden is uninhabited? Many factors contribute to Sweden's access to its abundant nature. Most importantly, Sweden's constitutionally guaranteed right of public access (Allemansrätten) assures that the land is open to everyone. This concept, deeply ingrained in every Swede, creates a sense of collective stewardship of the land. They understand that with rights come responsibilities. The rule of thumb is "Don't destroy, and don't disturb".
While recognising the need to protect nature and its resources, Sweden was the first country to establish an environmental protection agency in 1967. Nowadays, more than half of our energy comes from renewable sources. Almost 100% of household waste is recycled and since the mid-1990's, we have actually been one of very few industrialised countries that have managed to pair a growing economy with falling emission levels.