Although life in a coalition is not always rosy, the president of the HNS believes that, through cooperating with the Croatian Democratic Union (HDZ), his party has made a step in good direction. By participating in the government, the HNS is strongly contributing to modernization that exceeds the mandates of the two ministries it helms.
"We want to be open to new innovative solutions both in politics and in education, as well as in business and all other segments of everyday life of our citizens", says Ivan Vrdoljak, president of the HNS. Since entering into the coalition with a politically unexpected partner such as the HDZ, the party's new slogan has been "Neither left nor right – just ahead!" "HNS responds to the challenges of time we live in, where classic divisions and classic political and economic responses no longer take place", Mr. Vrdoljak adds.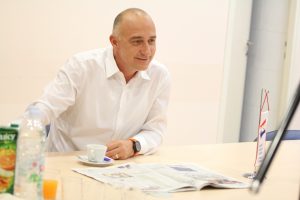 Looking back, do you think that joining the government with together with the HDZ was a good decision to make and how much did that decision solidify the HNS?
Looking at the concrete results and things that have transpired, we can say that we made the right decision that was also, above all, a much needed one. After the expected initial shock and having a number of MPs leaving the party, as well as the party being reduced to a rather modest membeship, we can say that we have definitely consolidated and are moving upwards. This is also reflected in the results from the last local elections. For instance, in Split and Osijek, we got 16% of votes at the local level. On the other hand, the indicators relating to managing the country are also good – from the growing GDP, industrial production and employment to lower public debt, reduction in certain taxes and declining unemployment. Of course, we still have many problems ahead of us, like young people leaving the country, but I believe that we are capable of dealing with them and that we are responding to these challenges with concrete solutions and results.
2. Is your position in the government sufficient to implement your programme and the desires of your electorate? How able are you to create policies in other ministries which you are not helming?
The fact is that the two ministries that the HNS members lead – the Ministry of Construction and Spatial Planning and the Ministry of Science and Education – have had the fastest reform dynamics and have achieved the best results; from new projects and programmes to receiving grants from the EU funds. Our engagement in the government is not limited to only two ministries, hence we have contributed to the tax reform with the special emphasis on lower salary tax and the pension reform with an emphasis on preserving the second pilllar as private individual assets, as well as adopting the Istanbul Convention as a necessary tool for preventing domestic violence and violence against women. We are also contributing to other segments too, but, naturally, our biggest contribution is in the two ministries that we lead and the two major long-awaited reforms – education reform and digitization of public administration in the segment of construction and spatial planning.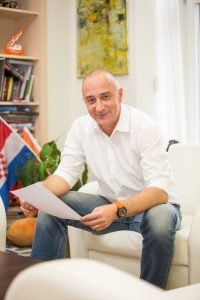 3. In Europe, which has started to lean more towards right wing, is it better to be a part of centre right, if we are talking about the electorate?
I firmly believe that in today's Europe there is no political struggle on the old one-dimensional "left-right" scale, but that we now have a two-dimensional political stage that includes the "forward-backward" determination. You have parties of the left and right foretoken that have progressive ideas and the desire to push their societies forward, but unfortunately, you have other parties too that live in the past, or want to drag Europe down. Furthermore, you have a very dangerous phenomenon of populism that does not have a clear definition of traditional political division, but because of the lack of knowledge how to respond to the real problems of citizens and the lack of vision, it only tries to exploit people's dissatisfaction and thus undoubtedly pulls Europe back into the terrible times of exclusiveness and intolerance we hoped would never happen again.
4. How is all of that spilling over into the Croatian politics and what is the HNS view on this issue?
The situation is spilling over into Croatia too, in many respects. We, as a liberal party of civic centrism, have made a rather difficult but necessary decision to make changes regarding our traditional political allies. New times and new circumstances require new solutions. Our new slogan clearly reflects our prevalent attitude – "Neither left nor right – just ahead!" Croatia is exhausted from living in the past and from trench divisions into "left" and "right" and "them" and "us" so it comes as no surprise that, in the last 10 or 20 years, we have been failing to achieve societal progress that would be doable if we were to have an atmosphere of togetherness and cooperation. We advocate collaboration with any party that wants to push Croatia forward and are against everyone (mainly populists and extremists) that want to drag us back to the dark past.
5. Last year, you reclaimed your position as president of the HNS. Did the break you took led you to think differently and find new ways of leading the party?
Of course, no-one is born a minister, politician or party president. You become active and through this activity you learn everyday. You also learn from your mistakes and successes.The learning process is lasting and of great significance for future successes which is why I put a strong emphasis on education in my political engagement.
6. Do you think that political parties in Croatia have quality youth?
You can always find quality people, and of course, it would be much better if there were more of them. To this end, the HNS has launched a kind of political innovation in Croatia by synergizing politics and vocation as seen in the example of our Minister of Science and Education, Blaženka Divjak. Together with her specialist team, she is engaged in professional aspects of education reform, while the HNS deals with the political support for the whole process. I believe that by having this kind of approach we can draw in more quality people in politics and restore citizens' trust in politicians.
box
Politics is also in dire need of innovation
What is the HNS going to look like in 5 or 10 years' time and which topics that you see crucial for the future are you going to deal with?
The world is changing at a tremendous speed and it is difficult to give a concrete answer to your question. What we, in the HNS, consider important regarding our future orientation is illustrated in our slogan "just ahead" – we need to be open to new innovative solutions both in politics and in education, as well as in business and all other segments of everyday life of our citizens.
New business concepts are emerging, like sharing economy, and we are trying to respond in a timely manner to create legal foundation for the development of such a kind of economy. I would like remind you that the HNS was the first party to provide institutional framework for regulating Uber's business in Croatia, resulting in a new law and creation of hundreds of new jobs. Technological changes also change the purpose and methods of teaching in schools, so we respond to these challenges by reforming education. I strongly believe that the HNS will remain the leader in modernization of society and political innovation in the years to come, while being strictly focused on every individual who, with their knowledge and skills and regardless of identity differences, can contribute to the country and society as a whole.