Central European Three Seas Initiative and the Chinese Belt and Road Initiative complement each other very well, says Advisor to the President of the Republic of Croatia, who is already heading to the next important post of the Croatian ambassador in China.
Today Dario Mihelin still holds the position of the Foreign and European Policy Advisor to the President of the Republic of Croatia, but as of January he will serve as a Croatian ambasador to China. Riječ je u ovom trenu u jednoj od najvažnijih veleposlaničkih pozicija za Hrvatsku koja ima velike ambicije kada je reč o razvoju odnosa sa azijskim džinom. Although relations between Croatian EU family and China are not always smooth, our interlocutor explains why he sees the potential for synergy.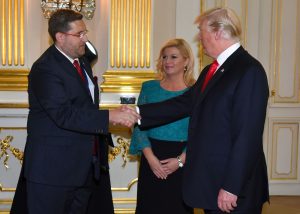 Which bilateral issues are you focusing on?
In recent years we have witnessed the strengthening of overall relations between Croatia and China. Two countries have made great strides in bilateral relations which are, in a single word, marked by trust. In last two years there have been five meetings between Prime Minister Plenković and Prime Minister Li. Economic cooperation is already headed in a very positive direction, highlighting the construction of the Pelješac Bridge and the wind farm project in Senj. In this context, we must jointly take advantage of all opportunities for further developing infrastructure cooperation, whereby we must also take into account the fact that the Central European Three Seas Initiative and the Chinese Belt and Road Initiative complement each other very well. Our people-to-people bonds are spreading, from sports and culture to tourism. Chinese tourists visit Croatia more and more, reaching a quarter of a million this year. 2019 will be the Year of Culture and Tourism in our relations, with many events in both countries. We can conclude that we have created a solid foundation for intensifying cooperation, and the official visit of the Chinese Prime Minister Li next year will certainly contribute to this, laying solid foundations for the return state visit of President Xi after the historic state visit of President Grabar-Kitarović to China in 2015.
Consequently, during my mandate as Ambassador, the economic and people-to-people component of our bilateral relations will most certainly be among my priorities, in addition to further strengthening of our political ties. I should not forget Croatia's first Presidency of the Council of the EU in the first half of 2020 which will present a major opportunity to highlight this side of our relations in addition to bilateral and cooperation within 16+1 track.
How delicate it is for an EU country to advance its relations with China at the moment, considering the EU's position on Chinese investments in region?
Other EU Member States strengthen their relations with China too, Croatia is not an outlier here. I would say that Member States from Central or South East Europe still have to go a long mile before reaching the level of cooperation and investment that some other Member States already enjoy.
The 16 + 1 summit will be held in Croatia next year, with the Chinese premier expected to attend. How should we view this visit in the light of Croatia's general external priorities?
Croatia is firmly anchored in the EU and NATO, contributing to their policies toward main partners around the world. In addition to that track, we are building strong relationships with key global and regional actors, including the United States, Russia or China.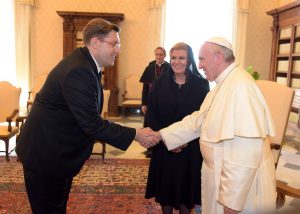 Can you tell us from your experience as an advisor how complex of a job is for a smaller European Union member like Croatia to navigate through recent turbulent foreign policy relations, both globally and in Europe?
You are spot on – it is a growing challenge for all diplomacies, particularly those not with large services. Developing partnerships is even more important, bilaterally and regionally, be it in the economic or in the security field.
Having said that, I cannot stress enough how important it is and how much of a difference it makes having a seat at the table. Croatia has, having gone through the process of accession that taught us a lot, in the last 15 years, truly become a fully-fledged member of NATO and EU, respectfully, and here we have an equal standing and voice that is being increasingly heard.
What do you consider to be Croatia's biggest foreign policy breakthroughs during your mandate?
I would have to highlight the already globally recognized Three Seas Initiative championed by President Grabar-Kitarović and President Duda which intends to reduce inequalities between the so-called "old" and "new" Europe through boosting economic connectivity through projects such as gas pipelines, electricity networks, highways, railways, telecommunications and digital networks.
Namely, the improvement of infrastructure links in Central Europe is a prerequisite to building prosperity, and stronger economic growth contributes to reducing the gap between the old and new EU Member States. Likewise, creating linkages within the Three Seas Initiative area strongly contributes to the cohesion, further integration and improved cooperation within the entire EU. The participating States are being offered an opportunity to stimulate investments in the areas that are of vital significance for economic growth, as well as to take advantage of the potential in each country that has thus far been neglected. Together we can achieve the required strengthening of competitiveness and economic resilience, of both our national economies and the entire EU. The Three Seas Initiative provides targeted access to the most vulnerable areas and contributes to the protection of common interests through the strengthening of inter-regional cooperation in energy, transport and communications networks.
How challenging are the relations in the region in the diplomatic sense?
Relations with one's neighbours are always somewhat challenging, especially when you take into account some complicated shared past. However, I think it is most important to reiterate that we have very friendly and close relationships with most of our neighbours and we should not allow one or two issues to disrupt what is historically a very good relationship.
Furthermore, as you know, Croatia strongly supports the continuation of the enlargement path for all six remaining South East Europe countries. We believe further enlargement to the South East Europe is in the EU's strategic interest and the EU must be ready and able, once a country is ready for accession, to fulfil its promises and commitments. Croatia supported and welcomed the renewed commitment to South East Europe by the EU as shown by the WB Strategy in February and the Sofia Summit as a very important milestone – since we have not had such a summit in 15 years. Building on the Sofia summit, and taking into consideration that in 2020 we will mark the 20th Anniversary of the Zagreb Summit, Croatia will organize another summit in the same format during our Presidency in the first half of 2020. Having said all that, we are actively supporting South East European countries on their Euro-Atlantic paths and providing them both with political as well as technical support, sharing our experiences and know how, having been through the process very recently ourselves. We are also of course familiar with the neighbourhood, its problems but also the solutions. Being one of South East Europe's biggest champions requires credibility which is only gained by openly pointing to remaining challenges.
Of course, I cannot talk about South East Europe without mentioning the Brdo-Brijuni Process started by Croatia and Slovenia in order to create an environment for open discussion of challenges ahead of the neighbourhood and to support the enlargement policy of the EU and the process of negotiations for the membership that is based on fair and transparent assessment of individual achievements of each country. I would underline that President Grabar-Kitarović, together with Slovenian President Pahor, hosted President of the European Council Tusk and Vice President of the United States Biden in Zagreb in November 2015, in that presidential framework, sending a strong message of EU-US responsibility for South East Europe.
We know well the situation where a so-called vacuum was created by several years of delay in enlargement perspective, which was filled by third actors that do not necessarily favour Euro-Atlantic prospects for South East Europe. Still, with such a vision of cooperation, we have undoubtedly made positive steps and helped to once again put the focus of the European Union, the European Commission and the European Council on Europe's South East.
The position of Croatia is clear and we are continually ready to share our experiences and knowledge in order for the negotiation process with South East European countries to commence as early as possible, and to continue in a concrete manner in line with the expectations of all stakeholders involved. Croatia strongly supports the strict, but fair evaluation based on the individual merits of each country. Here, the most important achievements are in the fields of rule of law, judicial reform, the fight against corruption and organized crime, security, fundamental rights, democratic institutions and public administration reform, as well as in the area of economic development and competitiveness.
What are the strongest tools of the Croatian soft diplomacy and how powerful are these tools in the hands of President Grabar-Kitarović?
I believe there are remarkable achievements by President Grabar-Kitarović in the foreign policy field. First of all the, the Three Seas Initiative that was launched by Croatia and Poland has really taken off and was recognized by the US, Germany, EC and global monetary institutions for its importance for Central Europe as well as cohesion in the EU, being the most recognized Croatia foreign policy initiative ever. President Grabar-Kitarović has developed a set of strong relations with her peers around the globe.
I also have to mention her enthusiasm and warmth when it comes to sporting events, which is something that made an impact all over the world. Nowadays there isn't a person in the world who does not know about Croatia, and that, I believe, we can thank our incredible sportsmen for, but also President Grabar-Kitarović.
In the end, I should not forget several million of people of Croatian origin living around the world, what truly creates a foundation for an amazing global soft power reach.