To celebrate its 45th anniversary, the Croatian Society of Conference Interpreters (HDKP) hosted a round table on the topic of the upcoming Croatian presidency of the Council of the EU and the role of conference interpreters in the process.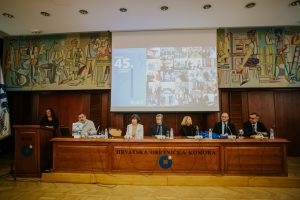 Ambassador Gordan Markotić, Coordinator of the Croatian presidency of the EU Council, said that during the period of 120 days 160 meetings will be held, including those of heads of states and governments and councils of ministers, as well as lower-level meetings of experts, where interpreters shall play a key role in ensuring smooth communication in 24 official languages of the EU.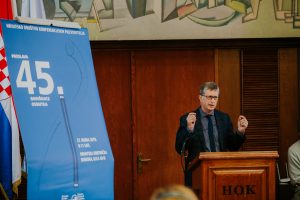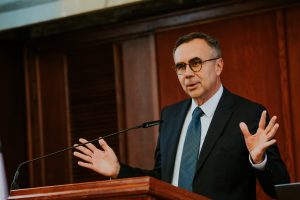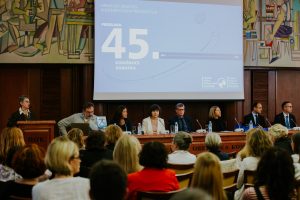 Tatjana Zagajski, Head of the Croatian Unit in the Directorate-General for Interpretation of the European Commission, invited Croatian speakers to freely use their mother tongue as the service shall provide enough interpreters for meetings held both in Brussels and Croatia. Since it became the 24th official language of the EU, Croatian can be heard on a daily basis in meetings taking place in the European Parliament, European Commission, Council and other bodies of the EU. It is the first time in its millennial history that Croatian enjoys equal status with other languages in an international organization whose policy of multilingualism enables Croatian citizens to communicate with its services in their mother tongue. Gintaras Morkūnas, acting head of the Croatian Interpretation Unit in the European Parliament, commended the quality of the Croatian booth in the EP, whose development he has been observing since 2013 when his native Lithuania was presiding the Council of the EU.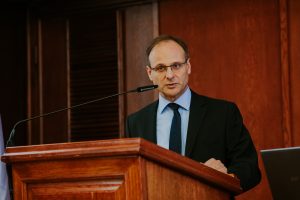 Over the past 45 years, members of the Croatian Society of Conference Interpreters (HDKP) have provided their services to all levels of the Croatian government. The head of the Prime Minister's office Zvonimir Frka-Petešić thanked them for being an invisible link in the chain connecting Croatia to the world. A collection of HDKP gazettes published for the occasion testifies to the commitment of the Society members to quality and observation of professional standards established at the international level and covers other issues relevant to conference interpreting, such as professional ethics, market developments, and new technologies. The publication was supported by AIIC, International Association of Conference Interpreters, whose current president, Uroš Peterc, congratulated HDKP on their anniversary and gave a brief overview of AIIC's activities in the region. Tamara Levak Potrebica, president of HDKP, reminded the audience of the Society's founders and the profession's evolution over the years, emphasizing the importance of the postgraduate course in conference interpreting established in Zagreb in 2005. She also briefly outlined the Society's activities and projects, including its contribution to the discussion on the Public Procurement Law, workshops for interpreters, and the enormous effort invested in the development of the new occupational standard "conference interpreter".