It's another busy year for Croatian airports, which saw the busiest June in history.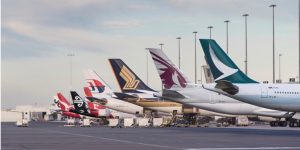 Rijeka Airport continues to grow each year and saw a record increase in passengers and operations compared to June 2018.
"After the successful 2018, when Rijeka Airport broke all records, achieving a total turnover of 183,606 passengers and a growth in traffic of almost 30%, this summer season also opened with great news.
Namely, Rijeka Airport can boast the busiest June to date and has increased passenger traffic by 37% as compared to June 2018, while traffic operations accounted for 40% higher turnover compared to the previous year," the airport said.
These excellent achievements are an excellent introduction to the season, in which they expect 200,000 passengers.
The reason for the increase is the introduction of new lines for Belgrade, Munich, and Marseille, but also an increase in the number of existing carriers, in particular, Transavia for Eindhoven, which increased by 350% compared to last season's number of operations," they added.
Avio Radar reports that Dubrovnik Airport also recorded a stellar June, which saw 415,876 passengers, which is 50,528 more passengers than last year. Thus, Dubrovnik Airport welcomed a passenger growth of 13.83% last month.
The first direct line from the United States to Croatia operated by American Airlines has significantly contributed to Dubrovnik's success.
Dubrovnik Airport has recorded an increase in traffic in each month this year. In the first half of the year, 1,059,564 passengers traveled through the airport, which is 157,184 more passengers than last year, or a growth of 17.42%.
Split Airport welcomed 513,706 passengers or an increase of 8.2% for a record June, and in the first six months of 2019, they welcomed 1,102,118 passengers, which is up 8%.
Ex Yu Aviation reports that Zagreb Airport saw 336,618 passengers in June, which is an increase of 1.5% compared to last year. In the first half of the year, Zagreb Airport handled 1,534,105 passengers, which is up 4.2%, or an additional 62,477 compared to 2018.
Source: Novi list,  Ex Yu Aviation , Avio Radar