Although Austria and Croatia have no mutual border, their bilateral relations have the neighbour-like intensity. As such, Austria and Croatia are strong partners and close friends in a united Europe in challenging endeavours.
 As the youngest EU member state, Croatia has done a wonderful job in chairing the Council of the European Union so far. It has proved to be an ambitious and very generous host, says HE Josef Markus Wuketich, Austrian Ambassador to Croatia. The ambassador notes that Croatia has taken the helm of the EU while it is steering through rough water.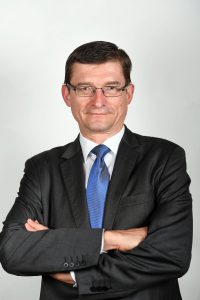 "The Croatian EU Presidency comes with an array of decisive tasks: Great Britain has just left the EU, but that doesn't mean that Brexit is over. The future relationship between the EU and the United Kingdom still has to be regulated. The complex negotiations on the Multiannual Financial Framework (MFF) for 2021 to 2027 are still on-going and have to be brought to a successful conclusion soon, if the EU's budget is to be in place in 2021", our interlocutor states. "As I understand, the Croatian EU presidency wants to support the European Commission and the President of the European Council in these challenging endeavours. Acting as an honest broker, the Croatian Presidency wants to facilitate viable solutions. This is a sound approach."
Austria also expects the Croatian Presidency to provide new impulses to the EU accession process of the Western Balkans countries at the Zagreb Summit to be held in May.
Finally the ambassador adds, one should not forget that the presidency brings about huge logistical tasks. In the six months of its Presidency, Croatia will have to organise around 120 events mostly in Zagreb, but also in other parts of the country.
How Austria supports the Croatian colleagues?
During the Austrian EU Presidency in 2018, a Croatian exchange diplomat was invited to Austria to gain insight into the processes of running an EU Presidency. He is now back in Zagreb and can put the acquired knowledge into practice. Austria's newly appointed Minister for the EU and Constitution Karoline Edtstadler paid a visit to Zagreb in mid-January to become more familiarised with the priorities of the Croatian EU Presidency. She offered her good services and Austria's support to the Croatian presidency.
How do you assess overall bilateral relations between two countries?
The bilateral relations are excellent. This does not come as a surprise.  Our common past provides a solid foundation for the Austrian-Croatian relations. Austria also lent support to Croatia's independence from the very outset. Our countries can boast of very intense people-to-people contacts. Croatia is one of the favourite holiday destinations of Austrians. Every year Croatia registers some 1.3 million arrivals from Austria. Around 80,000 Croats live in Austria. Geographically speaking, we might not be neighbours, but our bilateral relations are, beyond any doubt, of neighbour-like intensity. Today Austria and Croatia are strong partners and close friends in a united Europe.
Austria is the largest foreign investor in Croatia today and is the sixth foreign trade partner. How can these relations be further upgraded?
The figures are impressive, indeed. So far, Austrian business has invested €4.4 billion in Croatia. Our bilateral trade volume amounts to €2 billion. There is continuing interest in intensifying economic relations on the part of our business community. Further improvement in business conditions, e.g. through enhanced legal security, reduction of red tape or greater predictability of administrative decisions, would provide a strong impetus for upgrading our economic ties. Bilateral relations are not a one-way street.  We do welcome Croatian investments in Austria and Croatia's wish to increase exports to Austria.
In the recent poll among the Austrian businesses in Croatia, labour availability featured among the most important concerns, ahead of the qualifications of the workforce and payroll. How much can the dual education help in addressing these challenges?
Labour availability is impacted on one hand by the brain drain that is taking place in Croatia. The government has recognised the seriousness of this problem and is determined to contain this phenomenon. On the other hand, dual education helps in training and educating skilled workers that are in demand on the labour market, because they have practical workplace experience. To a certain extent, Croatia has got such a model already. However, it would be worthwhile to expand its scope. There are some initiatives underway and Austria will readily support them.
What are the possibilities for the brain circulation, having in mind that there is a large Croatian diaspora in Austria?
A couple of months ago I attended the G2.5 Meeting (Meeting Second Generation) and met with young Croatian entrepreneurs from Austria. It was such a pleasure to talk to these young people who are very successful in our country. Many of them are contemplating expanding their business operations to Croatia or returning to their country.  While talking to them, it became clear to me that a favourable business climate also plays a crucial role for brain circulation between Austria and Croatia. Improvement in this sphere would definitely make it easier for these young people to move back to their country.
How these relations add to the cultural relations between two countries?
Cultural diplomacy is an integral part of Austria's foreign policy and plays an important role in our bilateral relations.  Our common past and intense people-to-people contacts between Austria and Croatia have created innumerable cultural links. The Austrian Cultural Forum in Zagreb marks its 65th anniversary this year. It organises many intriguing cultural events all over Croatia and has become something like an Austrian cultural trade mark in this country.