The Entrepreneur of the Year Award, presented by Women in Adria for five years now, strongly promotes the success of female entrepreneurship. More importantly, this project allows every entrepreneur to find their role model in one of the winners or finalists and move boldly forward.
Women in Adria defines itself as a brand for aspiring women: women entrepreneurs, corporate women, women who want to have a successful career in any field. Judging by the number of women in Croatia entering the business sector today, Women in Adria's mission to inspire, inform and connect women who want to enter business is undoubtedly a successful one. However, it is difficult to say whether it is comforting or, conversely, devastating that men and women entrepreneurs in Croatia are facing the same things in terms of the problems created by the state and make it difficult for them to successfully enter the business. Although she is facing this very challenge herself, Ivana Matic, the originator of the idea of Women in Adria and its CEO, is also ready to grow her business outside Croatia too.
How much easier or harder is it to state "I am an entrepreneur" in the Croatian society today compared to the time when you founded Women in Adria?
In comparison to the beginning, many more women now want to become entrepreneurs, and I think have contributed greatly to that. The experience shows that they follow our website, absorb the information, start entertaining the idea of starting a business and then, at one point, they do exactly that. So, we can say that it is popular to be an entrepreneur in Croatia today. On the other hand, our state has been increasing the levies and hindering entrepreneurial start-up, making it increasingly difficult to survive as an entrepreneur.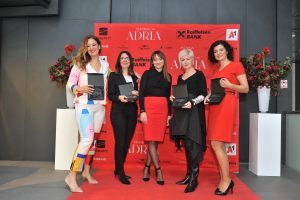 What do you, as an organization, provide to women who are just considering venturing into entrepreneurship?
The most important thing we give them is a community of women who share the same ambitions and challenges. This is very important in entrepreneurship. In the last few years, we have been organizing networking breakfasts and conferences for women entrepreneurs throughout Croatia where they can get educated and inspired. We have also published several books for entrepreneurs. The first is "How to Start and Run a Home-Based Business" that helps mothers entrepreneurs, and the book "From Employee to Entrepreneur" which is for women who are just thinking about entrepreneurship and those who have been running their business for up to 3 years.
How can the services you provide to women in the business help them grow their businesses?
Through our membership programme, entrepreneurs get a lot of promotion that often goes viral in other media, so they get the marketing they could never afford. Then there are the benefits of our partners thanks to which they can make substantial savings for their business. Also, through networking with other entrepreneurs they can expand their business.
Every year, you give out the prestigious Entrepreneur of the Year Award. In which sectors do women mostly operate and how big are companies that they run, considering the number of employees and the size?
In our experience, 75% of women-owned businesses have up to 4 employees. We give out the award in 4 categories: Micro (up to 5 employees), Prospective (over 5 employees), Inspirational (minimum 5 years of business and more than 5 employees) and Startup Entrepreneur of the Year. This year, we have presented the awards for the 5th consecutive time. This project is the best promotion of female entrepreneurship not only because of the media response, but also because every entrepreneur can find a role model in one of the winners and finalists, depending on what stage of business development they are in.
It is often said that, with the development of a knowledge-based economy, the importance of women's entry into these sectors is growing. Are there enough women today in innovative sectors, startups and IT?
Unfortunately, there are not enough women in these sectors. We are contributing in the way that we obtained the licence to publish "Girl Who Code", a book designed for girls, and are planning to hold training sessions for them.
How different are women's and men's entrepreneurship (if there are any differences at all) and is there a need to tailor business courses to the needs of women?
The success of a business depends on the business model, the market and the like. However, the path to success is different for women and men. When a woman becomes a mother, her business is doomed to slow down and it is questionable whether it will ever recover. That is why we say that time is just as valuable for women as money. This is also the direction that the support for female entrepreneurs should take – for instance, co-financing childcare costs for beginner entrepreneurs.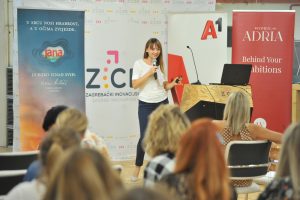 I am ready to grow my business
You run a women's business yourself. What is your company's prospect?
              I started my female business while being the mother of 3 kids. The kids have grown up a little bit since then and now my business is ready to grow. We help the private sector understand the idiosyncrasies of the women's market and tailor the offer, but we can also help the public sector. On the other hand, we are entrepreneurs, so it makes sense to grow and develop these two verticals together. We have a franchise in Macedonia and Bosnia and Herzegovina and are working to expand to other markets.